Sheriff Walt Longmire (Robert Taylor) is just trying to do his job as he returns to work shortly after his wife's death and prepares to run for re-election in A&E's western drama 'Longmire'. Along Walt's side are his daughter Cady (Cassidy Freeman), his new fellow deputy Vic (Katee Sackhoff) and his best friend Henry (Lou Diamond Phillips), as he investigates serious crimes in Absaroka County, Wyoming.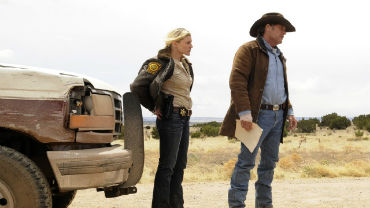 When 'Longmire' premiered on A&E, it became the network's No. 1-rated original series premiere, watched by 4.1 million viewers. Though new episodes of 'Longmire' can be watched Sundays at 10 pm EST on A&E, free new episodes of 'Longmire' are also available to watch online with the help of FreeCast.
So far, 'Longmire' has aired three episodes in season one and you can watch them all online for free. If you aren't able to watch 'Longmire', the show based on a series of mystery novels by Craig Johnson, during its normal airing hours, we're here to help you watch it for free online.
You can catch all the 'Longmire' action, as well as any other shows completely free online, thanks to FreeCast.