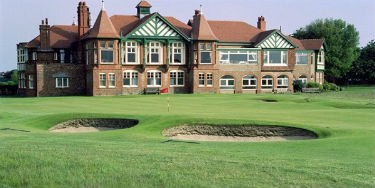 The rain has finally let up, the sun is out and the 2012 British Open Championship is ready to get started on Thursday, July 19 beginning at 4:30am ET.
As soon as the golfers hit the tee boxes you'll be able watch the British Open live online for free with the help of FreeCast's Live Streaming Coverage Guide, though it will also air on ESPN.
This year's British Open Championship at the Royal Lytham & St. Annes Golf Club will certainly be affected by the rain that has been pouring into the British Isles, as the course is sure to be more difficult.
Tiger Woods, who is the only golfer with three PGA Tour wins this year, will look to win his first major championship in four years, though he mentioned to the media that the course, in its current shape, will be tough. Be sure to watch the British Open Championship live online for free to see how the course's conditions affect all of the golfers. If Woods can keep the ball on the fairway and avoid the rough for at least most of the day, he should have a solid chance at winning the British Open Championship.
You can watch Woods tee off live online Thursday at 4:42am ET, absolutely free. He'll be playing with Justin Rose and Sergio Garcia.

No.1-ranked golfer Luke Donald will be looking for his first major championship win when the British Open Championship gets underway, and he'll have to go through some serious competition, including last year's Open champion, Darren Clarke.
There's also Bubba Watson, No.2-ranked Rory McIlroy, who's looking for his second major championship, and No.3-ranked Lee Westwood, who yet to win a major. Watch the British Open live online for free to see whose game is at its best come Thursday morning.
Woods, with a 15th major victory in the 2012 British Open Championship, could reclaim his No.1 world ranking. You won't want to miss out on watching him play as free live golf coverage begins streaming online.
Visit FreeCast to watch the British Open Championship live online for free from Thursday, July 19- Sunday, July 22. If you don't have a TV or a computer, you can always watch the 2012 British Open live online through your mobile device and it's still free.