(Access to live streaming coverage of NFL Preseason games requires a one-time fee.)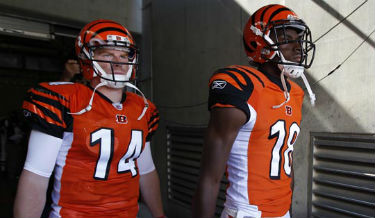 The Cincinnati Bengals were one of the surprise teams in the NFL last season as rookies Andy Dalton and A.J. Green clicked on the offensive end to lead the team to a 9-7 record.
It was more than what many expected from a team that was still in the early stages of rebuilding.
Now, with one season under their belts, Dalton and Green will look to make even more progress in the 2012 football season.
On Thursday, August 16, Dalton, Green and the rest of the Bengals team will travel to Atlanta to take on the Falcons at 8pm ET and you can watch the game live online to find out how much progress the young team has made during the offseason. After paying a one-time fee of $19.99, you can watch the Cincinnati Bengals vs Atlanta Falcons live online, along with every other 2012 NFL Preseason game.

The Atlanta Falcons are another big team to watch out for this season. Quarterback Matt Ryan has plenty of weapons on offense including wide receivers Roddy White and Julio Jones, running backs Michael Turner, Jason Snelling and Jacquizz Rogers and tight end Tony Gonzalez. Be sure to watch the Falcons vs Bengals NFL Preseason game live online to see how potent Atlanta's offense is heading into the regular season.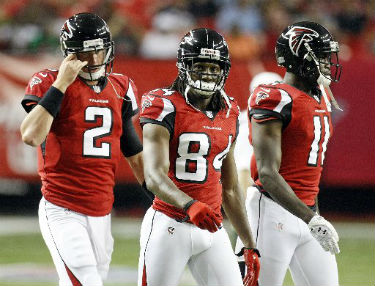 Some new faces on the Atlanta Falcons to watch out for in Thursday's preseason game as it streams live online are cornerback Asante Samuel and 2012 second-round pick, center Peter Konz.
When the Bengals take the field, look for newly-acquired running back BenJarvus Green-Ellis and the 17th overall pick in the 2012 NFL Draft, cornerback Dre Kirkpatrick.
Watch the Bengals vs Falcons live online to see how much of an impact these new players have on their teams.
FreeCast's Live Streaming Coverage Guide will direct you to full live coverage of all the NFL Preseason action so you can get up to speed before the regular season kickoff on September 5. For fantasy football fans, being able to watch every bit of NFL Preseason action online is a real game-changer. You'll be able to head into your fantasy draft with a tremendous amount of confidence after seeing firsthand how numerous players perform in the preseason.
The regular season may not have started yet, but there is still plenty of live NFL action to watch online as the preseason continues on for another three weeks. So what are you waiting for? Visit FreeCast (after paying one-time fee) and watch the Bengals vs Falcons live online, along with every other NFL Preaseason game you have in mind.