Live coverage of Oakland vs Detroit Game 5 starts Thursday at 9:37pm ET.
(Live streaming coverage of all MLB playoff games requires a $4.99 one-time fee.)
Note: MLB's Postseason TV package is available to US and Canada residents only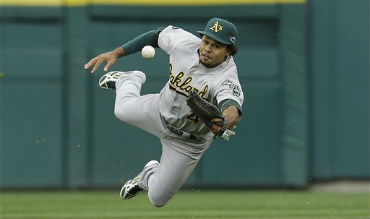 After putting together a three-run rally in the bottom of the ninth inning to take Game 4 of the American League Division Series and stun the Detroit Tigers, the Oakland A's have certainly gained the momentum.
Oakland has busted off two straight wins after getting down 0-2 and all that stands between them and the ALCS is the reigning American League MVP and Cy Young Award winner Justin Verlander. The Tigers's ace struck out 11 and surrendered just one run to the A's in Game 1 of the ALDS, while Oakland's Jarrod Parker allowed three runs in 6 1/3 innings.
It's now win-or-go-home game for both teams as this is one MLB playoff matchup that you'll want to be sure to watch live. Fortunately, thanks to MLB's Postseason TV package and FreeCast, baseball fans can watch the A's vs Tigers Game 5 live online.
All you have to do to start watching the MLB postseason live online is pay a one-time fee for MLB's Postseason TV package. After taking care of that fee, you can head on over to FreeCast and check out our Live Events page to find live streaming coverage of the 2012 MLB playoffs. Just find the link for the A's vs Tigers live stream to begin watching Game 5 live online at 9:37pm ET.
Despite losing the last two games of the American League playoff series in Oakland, Detroit should come out looking very confident knowing that Verlander will be on the mound. Verlander is 3-0 with a 0.90 ERA against the Athletics this season (including Game 1) and most of Oakland's hitters have struggled against him in the past.
In fact, other than Coco Crisp, who is hitting .346 against Verlander, there is no batter in the Oakland lineup with an average higher than .222 (in five or more at-bats) against Detroit's ace. Watch the Tigers vs A's live online with FreeCast to see if Oakland can stay hot and get to Verlander early on.
Jarrod Parker, who went against Verlander in Game 1, will try to put together a stronger outing against Detroit, especially now that the A's are playing at home in the pitcher-friendly O.co Coliseum. In Game 1, Detroit's Miguel Cabrera and Prince Fielder went a combined 0-5 against Parker with one walk.
If Parker can limit the production of the Tigers' big bats once again, he should give the A's a great chance to win. Be sure to watch the A's vs Tigers Game 5 live online as Parker looks to lead Oakland into the ALCS.
The Tigers vs A's Game 5 could come down to the wire considering both Parker and Verlander are more than capable of shutting down batting lineups, especially in a pitcher-friendly park. You'll want to be sure to watch the Tigers vs A's live online because the winner will advance to the next round of the playoffs to face either the New York Yankees or the Baltimore Orioles.
To watch the Tigers vs A's Game 5 live online, just remember to visit FreeCast's Live Events page. Then, click on the A's vs Tigers Game 5 live stream link to start watching Oakland vs Detroit live online.