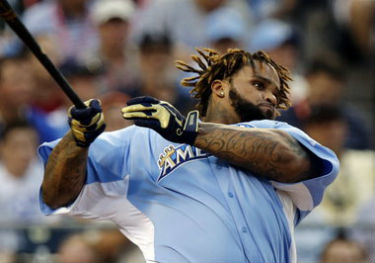 No one could match Prince Fielder's ferocious swing last night as the Detroit Tigers first baseman soared to his second home run derby title, just edging out Jose Bautista of the Toronto Blue Jays.
Fielder, who also won the derby in 2009, played in the water at Kauffman Stadium all night, as a large portion of his towering home runs splashed in the right-center field fountains.
After having the lowest first-round total (5) of any player who advanced, Fielder came out in the second round on a mission. He hit 11 that round, followed by 12 in the final round to give him 28 total homers in the 2012 MLB Home Run Derby.
Bautista 11 first-round homers (all to left field) were impressive, but he cooled off and ended up tied with the Los Angeles Angels' Mark Trumbo in total home runs after round two. Trumbo proved that he belonged in the derby by hitting seven absolute bombs in the first round, followed by six more in the second. He lost to Bautista in a swing-off tie-breaker in which each player got just five total swings.

Last year's home run derby champion, Robinson Cano stole the show again in 2012, but this time for the wrong reasons. Kansas City Royals fans erupted with boos from the time Cano stepped out on the field until he found himself homer-less after ten outs. The fans were upset that Cano, the American League captain didn't select Royals DH Billy Butler, who has 16 homers on the season.
However, Cano's American League derby roster was far more superior to the National League squad that Matt Kemp picked, so all the hate was somewhat uncalled for. Only one National League player, Carlos Beltran, advanced to the second round. Andrew McCutchen and Carlos Gonzalez each hit four, while Kemp, who came fresh off the MLB's disabled list to participate, hit just one.
The American League simply dominated the National League, led by the trademark, monster swing of Fielder, who has now established himself as one of the greatest home run derby champions of all time.
Next up is the 2012 MLB All-Star Game, which begins tonight at 7:30 pm ET on Fox.
[iframe width="97%" height="480″ src="http://www.youtube.com/embed/oR8KAmud3xY"]
Royals fans boo Robinson Cano out of the home run derby