There was no way that Lebron James and the Miami Heat were going to allow the Oklahoma City Thunder to creep back into the 2012 NBA Finals series last night, as the team won its second NBA championship in franchise history by a score of 121-106. James, highly criticized for much of his NBA career thus far for not winning on the biggest stage, was finally able to silence all of the haters and naysayers as he hoisted the NBA championship trophy, along with his 2012 NBA Finals MVP award at Miami Airlines Arena.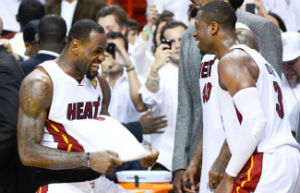 After winning the first game of the 2012 NBA Finals at home, the Thunder struggled to find any consistency, especially on offense, in the next four games of the series. Kevin Durant and Russell Westbrook, who were their usual stellar selves for most of the Finals, just couldn't see to get the rest of the Thunder team going.
Serge Ibaka, who played a major role in the Western Conference Finals against the Spurs, scored in double figures just one time in the series, which came in Game 1 when he had only ten points. James Harden and the rest of the Thunder's role players weren't much better as the Thunder got blown out in Game 5 and in the series altogether (4-1).
The Heat meanwhile saw major contributions outside of their big three from Mario Chalmers, Shane Battier, Mike Miller and Juwan Howard, who offered his moral support from the bench all series long.
Miller, an 11-year veteran, uncharacteristically shot 7-8 from downtown and amped the crowd up early. He was one of six Miami players to score in double digits. By the time the fourth quarter arrived, the game was already over as the Heat continued to shoot lights out as a team and the Thunder lagged behind with no momentum.
King James finally earned his crown and in impressive fashion, winning season MVP, Finals MVP, and closing out the Finals series with a triple-double (26 Pts, 11 Reb, 13 Ast). The monkey is officially off his back, which should strike fear in every other team in the NBA.
Be sure to visit FreeCast to find live game coverage online when the NBA picks back up in the fall.

[iframe width="97%" height="480″ src="http://www.youtube.com/embed/bZtxIT-Fn54″]