Once again, the cast from 'The Office' is losing one of its regulars heading into season 9. B.J. Novak, who plays Ryan on the show, will not be returning when the new season premieres on September 20, though it seems likely that he'll pop up in episodes here and there, as well as continue to contribute as a writer and director.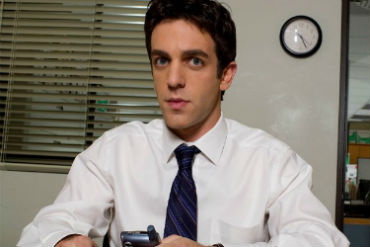 Also departing from the series is Mindy Kaling (Kelly Kapoor) who played the shallow, talkative love-interest of Novak's character on 'The Office'. She is set to star in her own sitcom 'The Mindy Project', which will begin airing on Fox in September of this year.
'The Office' cast has become more and more depleted since losing its main star, Steve Carell (Michael Scott) last year. In addition to the cast members already mentioned, James Spader (Robert California) and Paul Lieberstein are also leaving the show to focus on other projects. Spader first appeared in the seventh season as Carell was wrapping things up.
Lieberstein, Toby, has been the showrunner for 'The Office' since its fifth season and is currently working with Rainn Wilson on a new spin-off series featuring Wilson's character, Dwight Schrute. If all goes as planned the show, taking place on Schrute Farms, will begin airing in 2013. This would likely lead to Wilson leaving the cast of 'The Office' after next season.
Perhaps the only good news for the show is that Ed Helms, John Krasinski and Jenna Fischer are all staying on, for next season at least. Still, it seems as though the reign of 'The Office' on NBC is nearing its ugly head around the corner so enjoy season 9 while you still can.
Catch ninth season episodes of 'The Office' online with FreeCast, starting the day after the season premieres on September 20.