Live streaming coverage of Chelsea vs Arsenal football match begins Saturday at 7:30am ET.
(Live coverage of Barclays Premier League football matches may require authentication.)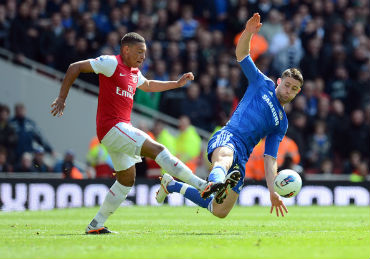 There's a great English Premier League football matchup coming your way on Saturday when Arsenal take on Chelsea at Emirates Stadium. This is one of those highly-intense football matches that fans look forward to every year and there's no reason to miss it. Arsenal vs Chelsea will be streaming live online from start to finish and the live stream will be available to watch for free at FreeCast.
To get to the link for the Arsenal vs Chelsea live stream, just head to our Live Events page.
When Arsenal and Chelsea met last season the match ended in a scoreless draw. Some football analysts are predicting the same outcome in 2012, even though Chelsea currently leads the Barclays Premier League in scoring.
Through five games this season, Chelsea has scored 13 points. Arsenal is fifth in the Barclays Premier League in scoring with nine points through the first five games. Watch Chelsea vs Arsenal live online, absolutely free as the two rival football clubs square off at Emirates Stadium in London.
Arsene Wenger and the Gunners have to better heading into their match against the Blues than in recent years considering they no longer have to deal with Didier Drogba. The feared striker scored a lot of goals against Arsenal over the years and stopping him was nearly impossible.
Chelsea now has a very different look to its team and the Arsenal defense is much improved. Watch Arsenal vs Chelsea live online for free to see if the Gunners can get the best of the Blues now that Drogba is no longer in the picture.
This is a pivotal match for both football clubs, but is perhaps more important for Arsenal. After a strong showing against Manchester City last week, the Gunners could make waves in the English Premier League if they can also knock off the Blues. If Arsenal loses to Chelsea, they would drop to seven points from the top of the table. Be sure to watch Arenal vs Chelsea online live for free as the Gunners try to get off to a quick start against the Blues at Emirates Stadium.
Some players to watch out for when Chelsea vs Arsenal streams live online for free are the Chelsea's captain John Terry, Juan Mata, Oscar and Branislav Ivanovic. On Arsenal, watch out for Tomas Rosicky, Bacary Sagna and Gunners captain Thomas Vermaelen, who is returning to the team after getting over a virus. Watch Chelsea vs Arsenal live online for free to see which of these players will have the biggest impact in this Barclays Premier League football matchup.
To watch Arsenal vs Chelsea live online absolutely free, remember to visit FreeCast's Live Events page. We'll provide you with a direct link to the Chelsea vs Arsenal live stream so you can begin watching the exciting Barclays Premier League football match online live right when it gets under way Saturday at 7:30am ET. You can even watch Arsenal vs Chelsea live online for free through your tablet or mobile device.