Bengals at Ravens Monday Night Football Live Online
Cincinnati at Baltimore streams live online Monday, Sept. 10 at 7pm ET.
(Live streaming coverage of the Bengals at Ravens may require authentication.)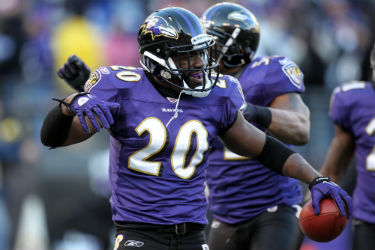 Who's ready for some Monday Night Football? The first week of the 2012 NFL season is nearly in the books and thanks to ESPN, you can watch the week 1 Monday Night Football doubleheader live online, absolutely free.
Just visit FreeCast and check out our Live Events page to find live streaming coverage links to both NFL Monday Night Football Games — Cincinnati Bengals at Baltimore Ravens (7pm ET) and San Diego Chargers at Oakland Raiders (10:15pm ET) — online. Start watching ESPN's Monday Night Football live online for free as soon as the Ravens vs Bengals matchup gets underway at M&T Stadium in Baltimore.
These two divisional foes have had some exciting games over the past few seasons but the Cincinnati has come up short in the last three. Watch the Bengals at Ravens live online for free as these division rivals try to start making a run for the playoffs once again in 2012.
The Baltimore Ravens have made it to the NFL playoffs in each of the last four seasons while the Cincinnati Bengals have not made back-to-back playoff appearances since the early eighties. With young talents like Andy Dalton and AJ Green at the helm of the Bengals offense, the franchise has a shot at ending that skid in 2012.
Watch the Bengals at Ravens live online for free as Dalton and Green try to build on the chemistry they established with one another last season. And what a better place to showcase how far they've come in their early NFL careers than on ESPN's Monday Night Football.
The Ravens, on the other hand, are hoping that Joe Flacco can finally put all the pieces together and emerge as one of the top quarterbacks in the NFL in 2012. He has plenty of offensive weapons in Ray Rice, Anquan Boldin and Torrey Smith, who provides Baltimore with a serious deep ball threat for opposing defenses. Watch the Ravens vs Bengals live online for free as Flacco tries to lead his team to their fourth-consecutive win over Cincinnati.
As always, the Bengals will have their hands full with Baltimore's disruptive defense, with star linebacker Terrell Suggs not playing. Ray Lewis and Ed Reed are still leading a stout Ravens defense that also features one of the best defensive tackles in the NFL in Haloti Ngata and newcomers Sergio Kindle and Courtney Upshaw.
Kindle missed all of last season with a head injury and Upshaw was a 2012 second-round pick out of Alabama. Watch the Ravens vs Bengals online live for free as Lewis and Reed lead defensive charge against Andy Dalton, AJ Green and new Cincinnati running back BenJarvus Green-Ellis in the first Monday Night Football game of the season.
Don't miss out the opportunity to watch the Bengals at Ravens in ESPN's Monday Night Football live online for free. With the help of FreeCast, you can watch live streaming coverage of Cincinnati at Baltimore, starting at 7pm ET.
Visit FreeCast on your computer and watch the Bengals at Ravens live online for free from start to finish.