Live coverage of Atlanta vs St Louis begins Friday at 5:07pm ET.
(Live streaming coverage of all MLB playoffs games requires a $4.99 one-time fee.)
Note: MLB's Postseason TV package is available to US and Canada residents only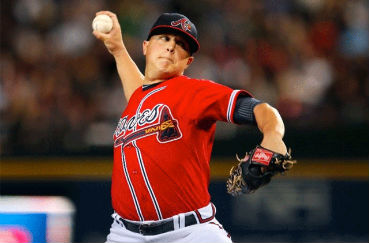 The 2012 MLB postseason gets going tonight with one-game National League Wild Card matchup between the Atlanta Braves and the defending World Series champion St Louis Cardinals. If it wasn't for Atlanta's late season collapse last year, St Louis would have never even made it to the playoffs, let alone win at it all.
The Braves had a 10 ½ game lead over the Cardinals for the National League Wild Card spot in late August last year before folding like a lawn chair ending up on the outside looking in.
On Friday, Atlanta has the chance to get a little bit of payback when they take on St Louis at Turner Field and baseball fans will be able to watch the NL Wild Card playoff game live online. Watch Atlanta vs St Louis live online with the help of MLB's Postseason TV and FreeCast, beginning at 5:07pm ET.
After paying Postseason TV's one-time fee of $4.99 (includes full live coverage of MLB playoffs), just head on over to FreeCast and visit our Live Events page. There, you'll find a live stream link for the Braves vs Cardinals so you can begin watching the NL Wild Card games online live.
The Braves have to like their chances heading into the one-game playoff against the Cardinals as dominant right-hander Kris Medlen will get the start. Atlanta has won 23 consecutive starts with Medlen on the mound, a Major League Baseball record. Medlen has a 0.97 ERA and a perfect 9-0 record in 12 starts for Atlanta this season. Watch the Braves vs Cardinals live online as Medlen tries to extend his perfect record into the 2012 MLB postseason.
Taking the hill for St Louis will be Kyle Lohse (16-3, 2.86 ERA), who also had an impressive regular season. He should give St Louis a good chance to win this NL Wild Card game, though he'll face a Braves lineup that's loaded with big bats.
Lohse will have to deal with Michael Bourne, Freddie Freeman, Jason Heyward, Brian McCann and future Hall of Famer Chipper Jones. Watch the Cardinals vs Braves live online as Lohse tries to battle his way through Atlanta's tough batting lineup.
Chipper Jones has already stated that this will be his last season and nothing would make him happier than being able to go out on top. Watch the Cardinals vs Braves live online to see if Chipper can help lead Atlanta to an NL Wild Card playoff victory.
St Louis will look to recreate some of that postseason magic from last year when they take the field in Atlanta despite no longer having Albert Pujols in the lineup. It was third baseman David Freese who played the role as hero for the Cardinals last October and Atlanta better hope he doesn't get hot again when he steps in the batter's box. Be sure to watch Atlanta vs St Louis live online with FreeCast to see if Freese will continue adding to his impressive playoff resume.
Don't miss out on any of the 2012 MLB playoff action when the Braves vs Cardinals game streams live online. Just visit FreeCast's Live Events page and start watching the Braves vs Cardinals online live right when the NL Wild Card playoff game gets going at 5:07pm ET. All you have to do is click on the MLB Playoffs – Braves vs Cardinals live stream link to begin watching the Cardinals vs Braves live online.