Live streaming coverage of UFC on FX 5 begins Friday, Oct. 5 at 8pm ET.
(Access to live streaming coverage of UFC requires a nominal fee.)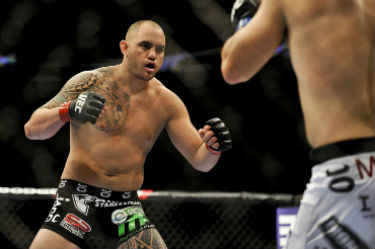 Another hard-hitting UFC heavyweight bout will take place on Friday night when Travis Browne steps into the Octagon to face Antonio 'Bigfoot' Silva. Browne vs Bigfoot will be the final event for UFC on FX 5 and will be streaming live online. To watch Browne vs Bigfoot live online, UFC fans can either pay for a six-month subscription or for each event individually.
After that, you can visit FreeCast to find live streaming coverage of Browne vs Bigfoot. Just head to our Live Events page to find the UFC FX 5 live stream link. Click on that link to watch Browne vs Silva and every other fight taking place at UFC on FX 5.
UFC on FX 5 will start at 8pm ET and will feature three other main card fights aside from Browne vs Bigfoot. The other UFC fights that you'll be able to watch live online Friday night are Jake Ellenberger vs Jay Hieron, John Dodson vs Jussier Formiga and Josh Neer vs Justin Edwards. Preliminary matches will also be taking place at the Target Center in Minneapolis on Friday evening.
Browne came into Thursday's weigh-in the lightest he's ever been in his UFC career at 246 pounds. Browne is probably trying to focus more on utilizing his speed against a 266-pound Silva. However, if Bigfoot is able to get on top of him or back him up against the fence, Browne's night could end very quickly. Watch Browne vs Bigfoot live online with FreeCast to see who has the advantage at UFC on FX 5.
Bigfoot has lost his last two fights in the Octagon so you can bet he'll come out hard on Friday as he looks to rebound against a less-experienced MMA fighter. The 6-foot-7 Browne is 4-0-1 in the Octagon but has not a monster quite like Silva. Browne's last UFC win came against Stefan Struve, who is very tall but lanky as well. Be sure to watch Browne vs Silva live online as Browne looks for perhaps his biggest UFC win to date.
There's a very good chance that the Browne vs Bigfoot heavyweight UFC bout will end quickly. Both MMA fighters often see their matches end in the first round and both are capable of delivering devastating blows. Make sure you start watching Browne vs Bigfoot online live from the moment the match gets under way because chances are it won't last too long.
Start tuning in to UFC on FX 5 at 8pm ET to watch preliminary matches, followed by main card bouts between flyweights John Dodson and Jussier Formiga, welterweights Josh Neer and Justin Edwards and welterweights Jake Ellenberger and Jay Hieron. Needless to say, UFC fans have plenty to look forward to Friday night when UFC on FX 5 gets going at the Target Center in Minneapolis.
Watch UFC on FX live online with FreeCast to see all of these great UFC fights. Most importantly, make sure you stick around to watch Browne vs Bigfoot online live when the UFC FX 5 main event gets going toward the end of the night.