Live coverage of Washington at St Louis Game 2 starts Monday at 4:37pm ET.
(Live streaming coverage of all MLB playoff games requires a $4.99 one-time fee.)
Note: MLB's Postseason TV package is available to US and Canada residents only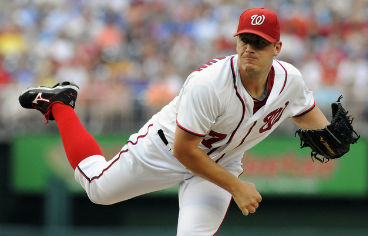 Thanks to a pinch-hit single from Tyler Moore in the seventh and strong pitching throughout, the Washington Nationals were able to pull off a come-from-behind win against the St Louis Cardinals in Game 1 of the MLB playoff series. Now, the Nationals will look to go up 2-0 in the series when they take on the Cardinals in Game 2 on Monday.
With the help of MLB's Postseason TV and FreeCast, baseball fans can watch the Cardinals vs Nationals playoff game live online. After paying a one-time fee of $4.95 for Postseason TV, which includes full live coverage of the MLB playoffs, head on over to FreeCast's Live Events page. Our Live Streaming Coverage Guide will provide you with links to all the MLB playoff games. Just click on the MLB Postseason live stream link to start watching the Nationals vs Cardinals live online.
The late-game heroics on Sunday night only begin to highlight the type of season the Nationals have had. Washington finished with the regular season with the best record in baseball behind great pitching and the emergence of great young talents on offense and defense.
Gio Gonzalez struggled with his command Sunday night, walking seven Cardinals batters in just five innings but the Nationals bullpen came through when they needed pitching a combined four scoreless innings to close out a 3-2 win. They allowed just two hits over that span. Watch the Nationals vs Cardinals live online Monday afternoon as Washington tries to head back home with a 2-0 lead in the series.
Taking the mound for Washington in Game two of the National League playoff series will be Jordan Zimmerman (12-8, 2.94 ERA), who has not pitched well against the Cardinals. He's 0-2 with a 9.12 ERA in five career games against St Louis. The Cardinals will roll with Jaime Garcia, who gave up six runs in just 5 1/3 innings the only time he faced Washington this season. Watch the Cardinals vs Nationals live online with FreeCast to see how Zimmerman and Garcia perform in a pivotal playoff game.
St Louis recorded just three hits against the Nationals in Game 1 of the National League division series and 2011 World Series MVP David Freese had two of them. Obviously, the Cardinals will need to do more than that in Game 2 if they hope to stand a chance. Chances are, they won't be the beneficiaries of seven walks again so they'll need to get some hits to get on base. Watch the Cardinals vs Nationals playoff game live online as St Louis tries to get its bats going.
Ian Desmond got off to a great start in his first MLB postseason on Sunday, recording three of the team's eight hits. The Nationals will look to get Ryan Zimmerman, Bryce Harper, Michael Morse and Jayson Werth going on Monday so be sure to watch the Nationals vs Cardinals online live as Washington tries to jump out to a 2-0 series lead over St Louis.
FreeCast is your destination for all the live MLB playoff action. Visit our Live Events page to watch St Louis vs Washington live online at 4:37pm ET, followed by the New York Yankees at Baltimore Orioles at 8:07pm ET. After paying the one-time fee for MLB's Postseason TV package, you'll be able to click on the MLB Postseason live stream link at FreeCast to start watching the Nationals at Cardinals live online.