Cincinnati vs Pittsburgh will stream live online on Thursday, September 6 at 8pm ET.
(Live streaming coverage of the Bearcats vs Panthers may require authentication.)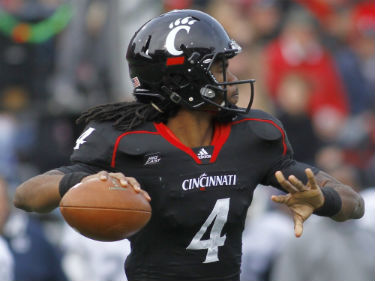 After suffering the program's first-ever loss to an FCS school (Youngstown State) in the first week of the 2012 NCAA college football season, the Pittsburgh Panthers will look to get back on track against the Cincinnati Bearcats on Thursday night. The two Big East foes will square off at Nippert Stadium in Cincinnati, OH at 8pm ET and free live streaming coverage of Pittsburgh at Cincinnati will be available to watch online.
To watch Cincinnati vs Pittsburgh live online for free, just visit FreeCast and check out our Live Events page. There, you will find a direct link to the Thursday night NCAA football matchup so you can start watching the Panthers at Bearcats online.
The Cincinnati Bearcats had a bye for the first week of the college football season and come into Thursday night's meeting against the Panthers will a very healthy roster. The Bearcats do, however, have 65 first- or second-year players on their roster so inexperience could be a factor in the game. Watch Cincinnati vs Pittsburgh live online for free to see if the Bearcats' young team will be too much for the Panthers.
Pittsburgh Panthers Coach Paul Chryst suspended six players for the NCAA season opener against Youngstown but all of those players are expected to play against the Bearcats. Quarterback Tino Sunseri and running back Ray Graham will look to lead the charge for Pittsburgh in the Panthers at Bearcats Big East matchup following disappointing performances in week one. Be sure to watch Pittsburgh at Cincinnati live online for free to see if the six returning players can help lead the Panthers to 1-0 start in Big East play.
Munchie Legaux has been named the Cincinnati Bearcats starting quarterback after putting together solid performances in the last three games of the 2011 NCAA football season. Look for Legaux and wide receiver Anthony McClung to continue to build chemistry with one another. Also watch out for Cincinnati cornerback/punt returner Trenier Orr, who coach Butch Jones said was the player he was most impressed with in camp. Watch Cincinnati vs Pittsburgh online live for free as Legaux, McClung and Orr try to lead the Bearcats to victory.
Free live streaming coverage of Pittsburgh at Cincinnati will be available to watch online with FreeCast at 8pm ET. Just visit our Live Events page to start watching Cincinnati vs Pittsburgh as soon as the college football action gets underway.
You can also watch Pittsburgh at Cincinnati online live for free with your tablet or mobile device when the Big East rivals square off.