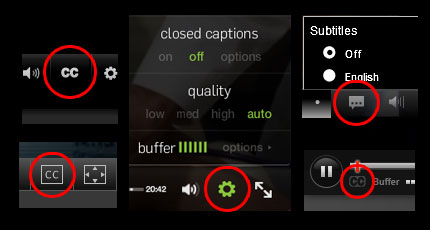 Here at Rabbit TV, we're all about making Internet TV as easy as possible – that means doing whatever we can to reduce the difficulty and frustration of finding quality TV shows, movies and more online.
Recently, we've been getting a lot of questions from our deaf and hard-of-hearing users about the availability of closed captioning (CC) and subtitles for select programs available through Rabbit TV. Given the huge demand for closed-captioning from Rabbit TV users, we decided to do something about it.
Rabbit TV is a guide, not a content provider, so we don't control any of the content we link to (TV shows, movies, live events, etc.), which means we can't add closed captioning to the programs we link to, but luckily we didn't have to. Just last year, the FCC adopted rules requiring any TV program reshown on the Internet to offer closed captions for their content on the web as well. This means that any TV show or movie shown on a major cable or broadcast network (like ABC, MTV, History, or Nickelodeon) is required to also have closed captioning when you watch it online.
While these closed captions have been available on most on-demand network content since last year (or earlier), it became obvious that many Rabbit TV users were still having a hard time accessing it. To help make it EVEN EASIER for our many Rabbit TV users, we added a new section to Rabbit TV that we like to call our "Closed Captions Guide".
In our closed captions guide, we teach you how to find the closed captioning options for various players around the site, along with visual guides and examples to help you along the way. To check out the Rabbit TV closed captions guide, just scroll to the bottom of any Rabbit TV page and click "Closed Captioning".