(Access to live streaming coverage of Champions League football requires a one-time fee.)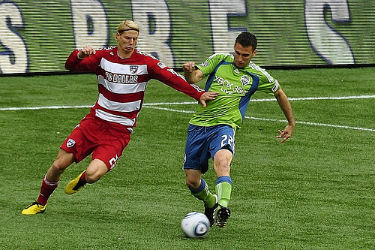 CONCACAF Champions League football is here, being made available to watch live online, thanks to Fox. Fans can finally watch teams play from all over the league, live or on demand by simply paying a small monthly or annual fee. Watch teams from North America, Central America and the Caribbean as the CONCACAF Champions League streams live online.
The best teams to watch when it comes to CONCACAF Champions League football include Mexico's CD Guadalajara, Cruz Azul and Monterrey, El Salvador's CD Aguila and Isidro Metapan and the US' Real Salt Lake and Seattle Sounders. Monterrey has won the last two CONCACAF Champions League titles while Real Salt Lake became the first MLS club to ever make it to a CONCACAF Champions League Final in 2011.
Will Monterrey make a push for their third-consecutive CONCACAF Champions League football title, or is an up-and-coming team like Real Salt Lake or Isidro Metapan poised to shake things up in 2012? Watch CONCACAF Champions League football live online to find out.
Live streaming coverage of all the Champions League football action is available online so you don't have to miss a game. Just visit FreeCast's Live Events page and we'll help direct you to live, high-quality coverage of whatever games you're looking to watch online.
We've got all your football and other live sports needs covered online at FreeCast. Even if you find yourself without a computer or a television, you'll still be able to watch CONCACAF Champions League football live online through your tablet or mobile device.