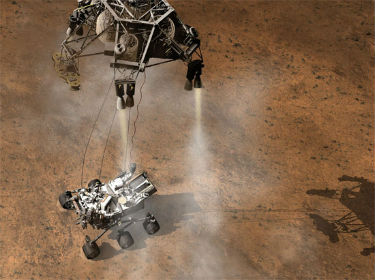 Newly acquired data is suggesting that many people prefer getting their news from online sources. According to Ustream, the company and website that was streaming Curiosity (The car-sized robotic rover built by NASA) on its Mars landing on August 6, More than 3.2 million people visited the live stream platform to see this spectacular event.
The Ustream Spokesman, Tony Riggins, states that more people watched the Mars landing on the live stream than on the most popular TV channels such as CNN, MSNBC or CNBC.

According to Riggins, the stream had over half a million (500,000+) visitors at peak time, which is noticeably more than CNN, which had 426,00 viewers and most other major TV networks such as MSNBC and CNBC, which had about 365,000 and 109,000 viewers, respectively. The only channel that had higher numbers was Fox with 803,000 viewers.
Many experts argue that the reason for this is that the internet and its social media tools are becoming more sophisticated, allowing users to be more flexible and have alternative options.
Besides streaming Curiosity's Mars expedition, NASA is also engaged in Twitter with a Curiosity Twitter account (https://twitter.com/MarsCuriosity). The Curiosity team has been actively tweeting and answering fans' tweets and as of right now, they have 941,683 followers.