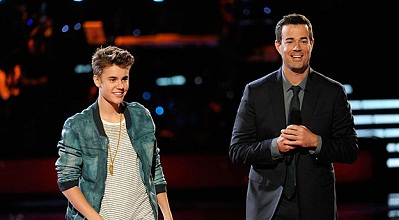 If you watched last night's episode of NBC's 'The Voice', you probably already know that it was one of the more emotional episodes of the season.
Following the surprise eliminations of the night before, where Christina's team lost Jesse Campbell and Blake's team dropped Jordis Unga, there was still one contestant left to go home, but not before a surprise live appearance by Justin Bieber.

Bieber showed up to promote his new video "Boyfriend" (or at least attempt to do so over the screams of hundreds of crazed tween fans), and announce that he would be back for 'The Voice' finale to perform "Boyfriend" live on TV for the first time ever.
Once the droves of Justin Bieber fans calmed down, the show continued with the night's eliminations.  Luckily, Chris Mann and former Alicia Keys backup singer Jermaine Paul avoided elimination thanks to online votes from the fans.  Of course, that meant that Ashley De La Rosa and Lindsey Pavao would have to go head-to-head to keep their spots on Team Christina.  For Team Blake, it was country singer RaeLynn and Erin Willet who had to prove themselves on the stage.
After some tearful words, Christina made her emotional decision, choosing Lindsey to stay, which meant Ashley was going home.  Blake, also torn between his two contestants, finally made his decision to keep Erin Willet and send Raelynn home.
Be sure to watch 'The Voice' next week, when Cee Lo and Adam will have to choose two of their own to send home.  Who on their teams do you think will make it to the semi-finals?  What do you think of Christina and Blake's decisions?  Let us know by leaving a comment below!