Do you smell what The Rock is cooking?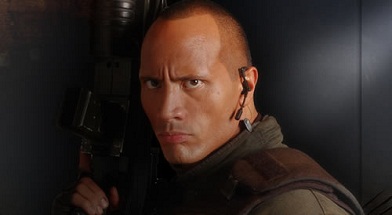 Former professional wrestling star Dwayne 'The Rock' Johnson has played his share of big-screen heroes, including everything from a Scorpion King to a G.I. Joe, but this year the action star will be taking on the small screen in his new reality show 'The Hero'.
In what's being called a 'global action reality series', Johnson will be overseeing an international pool of contestants on three continents in a competition of strength, morals, and overall courage. In the end, one contestant will be named 'The Hero'. In a statement about the new show, Johnson had the following to say:
"The Hero will bridge the digital and physical world on the small screen in an unmatched fashion, enabling fans to determine the fate of the show's contestants entirely through social media and on-screen decision making."
While The Rock certainly seems excited about his upcoming show, it's not the only thing he's working on at the moment. In addition to 'The Hero', Johnson is purportedly working on half a dozen other projects, including the big-screen adaptation of 'Lore' along with Brett Radner productions of 'Hercules' and 'Empire State'.
This may seem like a pretty full plate for even the biggest Hollywood actor, but they don't call him The Rock for nothing.