FreeCast's multi-channel Facebook TV app allows users to interact with their friends and fellow fans while watching Friday's Celebrity Game all on the same screen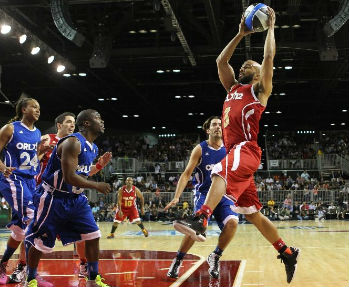 ORLANDO, FL, February 23, 2012 /24-7PressRelease/ — NBA All-Star Weekend is one of the biggest events in basketball, and this year one of the most popular exhibitions, the Sprint NBA All-Star Celebrity Game, will be streamed live online courtesy of ESPN, and now NBA fans will be able to enjoy all of the action of the celeb throw-down via Facebook with the FreeCast app.
The multi-channel Facebook app developed by freecast.com ('Your Personal Channel Guide') gives users the power to find and watch their favorite TV shows, movies, sports, events and more via Facebook, and this Friday it will guide its users to ESPN's coverage of the NBA All-Star Celebrity Game. This means Facebook users will be able to watch every play live from their computer while chatting with their friends and other fans about the action, all on one screen.
"With more and more major events being broadcast live online, Facebook users are beginning to see the true value of our app. Not only does it give users the ability to watch their favorite TV shows, movies and sports on-demand, but it also gives them a way to interact and share live events like this with their friends no matter where they are," says William Mobley, President of freecast.com.
Although ESPN's stream of the Sprint NBA All-Star Celebrity Game can act as a standalone viewing platform for the exhibition, it is likely that many users will use the FreeCast app as a 'second screen' or companion application to ESPN's television broadcast of the game, as was the case when the app streamed CBS's Super Bowl coverage earlier this year.
Coverage of the game begins Friday Feb 24th at 7:00pm EST.