Facebook (NASDAQ:FB) was previously accused of tolerating video piracy. Slate writer Will Oremus proposed that plagiarized video content from YouTube helped propel the growth of Facebook as an online video platform. A professional YouTube Creator also ranted that 725 out of the top 1000 most-viewed videos on Facebook for Q1 2015 were re-uploaded videos stolen from other sites. The alleged 725 stolen videos were responsible for 17 billion views – a major part of Facebook's total video traffic.
Oremus did admit that re-uploaded videos from YouTube actually go viral faster (and get substantially more views) on Facebook. Unfortunately, video creators hate the illegal upload of their content on Facebook – they do make a living out of YouTube views. Unlike Google (NASDAQ:GOOG) (NASDAQ:GOOGL), which gives 55% share of YouTube ad revenue to content creators, Facebook has not yet implemented any revenue sharing program for video creators.
Fortunately, Facebook is aware of the problem and has addressed this issue of freebooting of online videos. The new video matching tool that Facebook is offering to video creators will help accurately identify freebooted videos for takedown purposes. Publishers who use this new tool will also be able to detect stolen even small parts of their videos that get used/mixed-down with videos uploaded on Facebook.
Facebook itself will run the video matching tool to evaluate the millions of videos uploaded to its site. If the algorithm detects an illegal copy, Facebook will notify the rightful owner and ask them if they want the pirated video taken down.
Facebook is now also tempting top-earning YouTube creators with its new offer of ad revenue sharing. Video publishers will be missing a lot if they continue to ignore the billions of eyeballs inside Facebook's website.
The Wall Street Journal claims Facebook users now watch 4 billion videos every day. Facebook is also estimated to generate $1.5 billion on video ads next year. The new anti-piracy efforts should further convince content publishers that Facebook deserves to be a real alternative to YouTube.
Facebook Wins The Backing of Rabbit TV
No top YouTube video publisher has defected to Facebook yet. However, Facebook has won the support of Rabbit TV. Rabbit TV has released a freemium streaming video app for Facebook's almost 1.5 billion-strong users. Rabbit TV is an aggregator of videos available online. It also offer subscription-only access to new movies and latest TV shows.
The Rabbit TV Lite app for Facebook comes with free access to 400 channels that offer live streaming radio, news, TV shows, and pre-recorded content from YouTube and other online video sites. Since Rabbit TV itself is providing the YouTube content to people, Facebook is likely no longer subject to complaints from YouTube video publishers.
Rabbit TV is a legal U.S. entity that competes with Netflix (NASDAQ:NFLX) and Roku. It is a joint venture of FreeCast, Inc. and TeleBrands Corp. – the multinational company who popularized the "As Seen On TV" direct response marketing business model.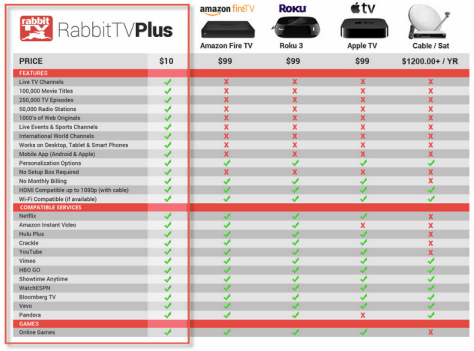 (Source: killthecablebill.com)
Facebook therefore has found a worthy partner in Rabbit TV that will help the social network giant offer a Netflix-for-the-poor service. Unlike Netflix, the Rabbit TV Lite app works here in the Philippines.
The potential revenue from 1.49 billion users possibly upgrading to Rabbit TV Plus' $10 or $20 annual subscription is worthy of serious contemplation.
(click to enlarge)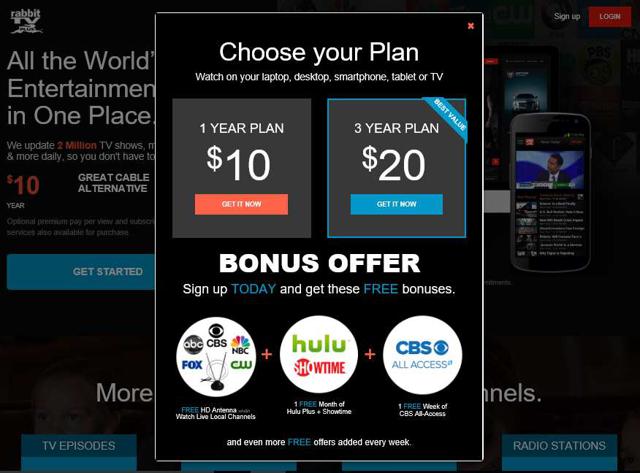 (Source: rabbittvplus.com)
Rabbit TV Plus offers over 500 streaming channels, hundreds of thousands of past and present TV episodes, and an on-demand library of over 100k movies. Rabbit TV Plus also offers pay-per-view for new movies and has tie-in subscription deals with Hulu and Showtime. If you want to watch a recently-released movie, Rabbit TV Plus will charge you $1.99.
I opine that Facebook would not have approved the Rabbit TV Lite app if there wasn't a revenue sharing deal involved. The massive long-term referral traffic from Facebook could lead to millions of subscriptions to Rabbit TV Plus.
Implementing the freemium video streaming app for people outside America is a brilliant move. Asians (like me) would likely consider cancelling their subscriptions to HOOQ and just pay $10 to get one year of Facebook-powered Rabbit TV Plus. The basic monthly fee of HOOQ in the Philippines is around $3.20, or $38.40/year.
HOOQ only offers around 10k movies and TV shows.
Rabbit TV As A Channel For More Advertising Clicks
As you can see from the screenshot below, there's an advertisement on the streaming movie from Rabbit TV Lite. It let me watch Tom Cruise's Oblivion movie in exchange for the possibility that I will click the ad. This is classic Facebook freemium strategy.
(click to enlarge)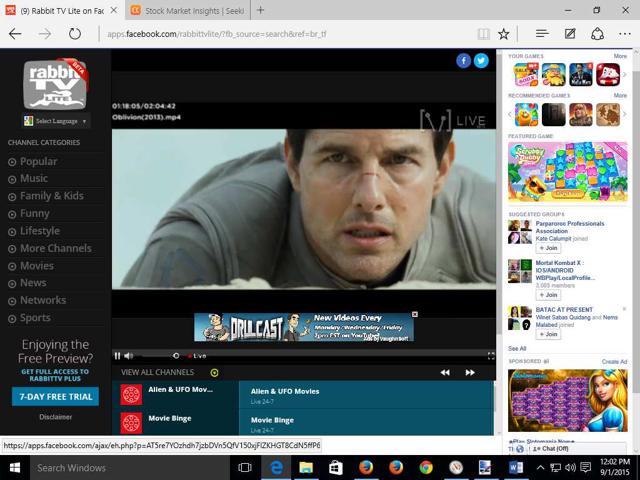 (Source: Alcaraz Research/Rabbit TV)
Even without the premium subscription, Rabbit TV's free streaming video app is still valuable because it is a new avenue for Facebook to deliver targeted ads. I also speculate that Rabbit TV and/or Facebook are likely to introduce pre-roll video ads (in the future) to freeloaders who are lazy in clicking in-banner or in-text video ads.
Licensing fees from streaming premium Hollywood movies like Oblivion is not cheap. Higher-margin ads are required to recoup content licensing fees. Facebook has already announced its intention to do pre-roll video ads last July. Rabbit TV's free app might also get covered by Facebook's auto-play pre-roll video ads.
The future economic benefits from the partnership with Rabbit TV is likely to improve even more once the Rabbit TV Lite app is also integrated inside Facebook's mobile app and the Facebook Messenger Platform.
Conclusion
Facebook deserves to get a bigger pie from video streaming ads. Rabbit TV is a valuable partner that could help Facebook profit from popularizing an affordable NetFlix-like service in emerging markets. The $10/year Rabbit TV Plus subscription service is cheap enough for most Facebook users.
FB is a Buy. This advertising-dependent company is slowly diversifying itself to include freemium video streaming. The threat of ad-blockers on online advertising is now also weakened by the emergence of Sourcepoint – a service provider that aims to block ad-blockers. PageFair is another outfit that helps advertisers and marketers defeat ad-blocking software.

Read on Seeking Alpha