freecast.com has developed a system to allow Facebook users to watch web-based television while continuing their social media activities.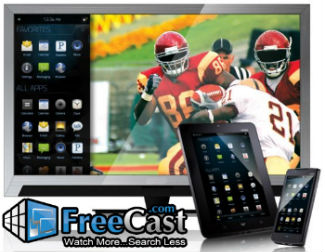 ORLANDO, FL, December 09, 2011 /24-7PressRelease/ — Facebook users now have the ability to watch myriad web-based television channels from directly within Facebook, thanks to a new service being rolled out by freecast.com today.
The new system will allow users to continue their social media activities while simultaneously enjoying their favorite TV/cable shows, movies, events, concerts and radio, at no cost.
freecast.com currently dominates the web as the leading provider of web-based television, offering an intuitive personal channel guide to consumers. The system is supported by an expansive video search engine, which locates and categorizes around 1.5 million new videos each day.
freecast.com's CEO, William Mobley, explains the benefits their system will bring to both the content providers and Facebook:
"Both the content providers and Facebook benefit from eyeballs being directed to their content, resulting in more time online and thus increased advertising revenue. There are also benefits to the mass aggregations of Facebook like-minded special interest groups including; college alumni, ethnic/country specific or ex-pat's, business, sports, and even politicians now able to distribute messages, video clips, promotional materials, etc. via instant Facebook alerts to their "Likes" and the "Share" methods, creating mass viral distribution to their followers from their own video channels," he says.
freecast.com's content originates from numerous sources around the world, such as TV and cable networks, movie channels, radio stations, YouTube, Vimeo – all major content distributors. With so much content available, users have the ability to get alerts when new content that may interest them becomes available.
As mentioned, the service is free to the end-user.
For more information on the freecast.com system, and to get your Facebook experience beefed-up with web television, visit: http://apps.facebook.com/freecasttv or https://freecast.com.
About freecast.com's William Mobley
Mobley's experience would suggest he knows at least a few things about the Internet television marketplace, having launched MegaChannels.com in 1999, which quickly grew to serving over 800,000+ streaming videos per day, while also partnering with several major studios' content when the average modem speed was 56k-128K, at a time when Yahoo was averaging 2M visitors per day, in comparison.