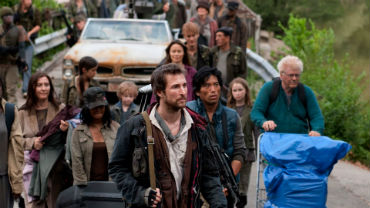 'Falling Skies' premiered on TNT June 19, 2011 and just recently started a second season, which you can watch free episodes of online with FreeCast the day after they premiere. Didn't get a chance to watch the first season of 'Falling Skies'? Visit our site to watch all the season one episodes online, absolutely free.
The new 'Falling Skies' season made its television debut on June 17, 2012, but new episodes of 'Falling Skies' can be watched for free online, at whatever time is most suitable for you. In fact, you can find all of your favorite TV shows for free online, thanks FreeCast, YOUR PERSONAL CHANNEL GUIDE.
Don't miss out on watching all the shows you want for free online!


About 'Falling Skies'
Taking place six months after an alien invasion, which wiped out Earth's compounded militaries and most of its population, 'Falling Skies' is a science-fiction drama series that follows the lives of a handful of survivors in a post-apocalyptic world. Together, the group of survivors forms a militia and tries to escape Boston. Show creator Robert Rodat teamed up once again with producer Steven Spielberg, after the two achieved much cinematic success together with 'Saving Private Ryan'.
Show Characters/Actors
Tom Mason (Noah Wyle), Hal Mason (Drew Roy), Matt Mason (Maxim Knight), John Pope (Colin Cunningham), Anne Glass (Moon Bloodgood), Ben Mason (Connor Jessup), Karen Nadler (Jessy Schram)

[iframe width="97%" height="480″ src="http://www.youtube.com/embed/p8Sikp1KS5M"]