Live streaming coverage of Volunteers vs Gators begins Saturday at 6pm ET.
(Live streaming coverage of Florida at Tennessee may require authentication.)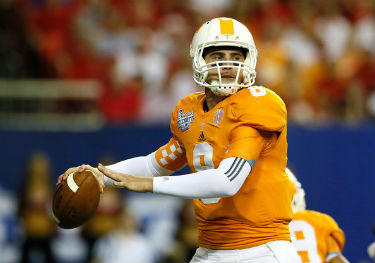 It's been one of the most talked about college football matchups of the early 2012 NCAA season and on Saturday night, No. 23 Tennessee and No. 18 Florida will finally face off in their SEC season opener. The Tennessee Volunteers will host the Florida Gators at Neyland Stadium in Knoxville, Tenn. on Saturday at 6pm ET and the SEC matchup will be available to watch live online, absolutely free.
All you have to do to watch Tennessee vs Florida live online for free is visit FreeCast and click on the link to our Live Events page. Once there, you will see a link to the Tennessee vs Florida live stream, which you can click on to start watching the Volunteers vs Gators live online.
Tennessee has not beaten the Florida Gators since 2004 and comes into this game ready to change that. After impressive wins over North Carolina State (35-21) and Georgia State (51-13) in their first two games of the 2012 NCAA football season, the Volunteers come into this game fired up and ready to put an end to their eight-year skid against the Gators. Watch Tennessee vs Florida live online for free as the Volunteers try to best of the Gators this time around.
Florida beat Tennessee last season by a score of 33-23 and the Volunteers never recovered, going on to lose seven of their last ten games to close out a highly-disappointing season. While the Gators' passing game has accounted for very little offensive production through the first two games of the season behind quarterback Jeff Driskel (276 yards, 1 touchdown), running back Mike Gillislee has been on a roll.
Gillislee currently leads the SEC in rushing with 231 yards on the ground and a 6.1 YPC average. The running game has been huge for Florida in their matchups against Tennessee, out-gaining the Volunteers by an average of 154.7 – 46.4 on the ground during the winning streak. Watch Florida at Tennessee live online for free as the Gators try to establish the running game early.
Tennessee's big advantage coming into this SEC college football matchup is their high-powered passing game. Quarterback Tyler Bray has gotten off to a great start in 2012, throwing for a total of 643 yards and six touchdowns without any interceptions through the Volunteers' first two games. Last week, Bray connected with wide receiver Justin Hunter for three touchdowns and the two seem to have built great chemistry in the offseason. Be sure to watch Florida at Tennessee live online for free as Bray tries to throw the ball all over the field against the Gators defense.
Hunter tore his ACL in last year's game against Florida and missed the rest of the 2011 NCAA season. He's been waiting a long time to face the Gators again and on Saturday, look for him to make some big plays for the Volunteers offense. Watch Florida at Tennessee live online for free as Hunter tries to help lead the Volunteers to their first win over the Gators in nearly eight years.
To watch the Tennessee vs Florida live stream online, all you have to do is visit FreeCast's Live Events page. There, you'll see a clickable link for Tennessee vs Florida as well as several other live sporting events taking place over the weekend.
You can also watch Florida at Tennessee online live through your mobile device at tablet, starting at 6pm ET.