Live streaming coverage of FSU at USF begins Saturday at 6pm ET.
(Live coverage of Florida St at South Florida may require authentication.)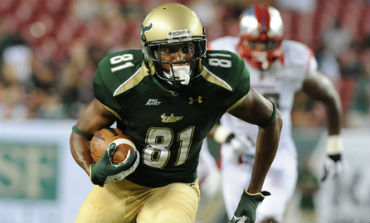 It's been two years since the South Florida Bulls marched into Doak Campbell Stadium and upset the Florida State Seminoles and on Saturday, the two teams will meet again.
This time the Bulls will host the Seminoles at Raymond James Stadium in Tampa.
For all those college football fans out there who are unable to make it to the game, there's no reason to fret as you'll be able to watch South Florida vs Florida St live online for free with the help of FreeCast. Be sure to visit our Live Events page to find the South Florida vs Florida St live stream right when the college football games gets going Saturday night at 6pm ET.
This is one football matchup that you'll want to be sure to watch live as the Noles are out for revenge after suffering an upset loss at home to the Bulls two years ago.
The No. 4-ranked Seminoles have gotten off to a phenomenal start in the early NCAA football season, overcoming a 14-point deficit last week to knock off a high-powered Clemson team. They currently rank No. 8 in rushing yards, No. 2 in points scored and No. 6 in points scored against. Watch Florida St at South Florida live online for free to see if the Seminoles can continue their tremendous play in their first road game of the season.
The last time these two teams faced, quarterback BJ Daniels, a Tallahassee native who grew up rooting for the Seminoles, was making his first-ever start for the Bulls and no one expected him to lead USF to a victory in a hostile environment. Now a senior, Daniels will look to recreate some of that magic and lead South Florida to a shocking upset over their up-state rivals. Be sure to watch USF vs FSU live online for free to see if Daniels can keep the Bulls in the game against a very tough Florida State defense.
While Florida State's passing attack behind quarterback EJ Manuel has been great so far this season, it's the Seminoles' running game that has been the most impressive. Senior Chris Thompson leads the Noles in rushing with 357 yards and five touchdowns and sophomore James Wilder Jr. is right behind him with 285 yards and six touchdowns. Every Florida St rusher, including EJ Manuel and third tailback Devonta Freeman, is averaging over six yards per carry. Watch Florida St at South Florida live online for free to see one of the nation's best rushing attacks.
Demetrius Murray currently leads the Bulls in rushing with just 207 yards and three scores. Daniels is right behind Murray with 199 yards on the ground. USF's biggest offensive threat aside from Daniels has been wide receiver Andre Davis, who has 23 catches for 309 yards and three touchdowns this season. Davis has been tremendous this year, even catching a jump ball over three defenders in the Bulls' loss to Rutgers. USF will need him to have a big game to have any chance when FSU vs USF streams live online for free.
There's no reason to miss out on watching this big-time college football matchup between the Bulls and the Seminoles, especially considering the fact that college football fans can find live streaming coverage of USF vs FSU online at FreeCast. Just head on over to our Live Events page at 6pm ET on Saturday to start watching the Bulls vs Seminoles live online, absolutely free.
If you don't have a computer, you can always watch Florida St at South Florida live online for free through your tablet or mobile device.