Live streaming coverage of LSU vs Florida begins Saturday at 3:30pm ET.
(Live coverage of Florida vs LSU college football game may require authentication.)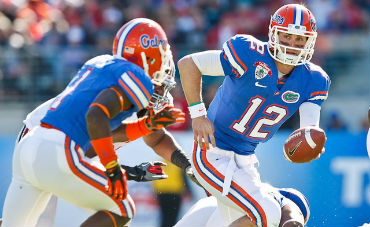 It's one of the most highly-anticipated college football games year-in and year-out, a matchup between two recent NCAA national champions. It's Florida vs LSU and it's streaming live online for free with FreeCast on Saturday, October 6.
The No. 10 Gators and the No. 4 Tigers have always faced off in intense games in front of sellout crowds and this year, the game will be played at Ben Hill Griffin Stadium in Gainesville AKA 'The Swamp'.
With the help of FreeCast, college football fans can watch Florida vs LSU live online for free as soon as the SEC matchup between two undefeated teams gets under way Saturday at 3:30pm ET. Just visit our Live Events page to find the link for the LSU vs Florida live stream. Click on that link to begin watching to begin watching LSU vs Florida live online, absolutely free from opening kickoff til the end of the fourth quarter or overtime.
LSU was ranked No. 2 heading into last weekend but slipped to No. 4 after a sloppy performance against Towson of all schools. Towson out-gained the Tigers on the ground by 30 yards, thanks to several missed tackles. Now, LSU gets the Gators on the road, who have looked like one of the best rushing teams in college football over the past few weeks especially. Watch LSU vs Florida live online for free with FreeCast to see if the Tigers can overcome their defensive woes from last week.
The Gators will be hoping to get a struggling LSU team on Saturday as opposed to the one that ran all over them last season with 238 yards on the ground. The Tigers come into the game averaging 229.6 yards per carry, which ranks second in the SEC. Florida's right behind them, averaging 224.5 rushing yards per game.
The two lead back to watch out for on Saturday when LSU vs Florida streams live online are the Gators' Mike Gillislee (402 rushing yards, 5 TDs) and LSU's Kenny Hilliard (366 rushing yards, 6 TDs). Watch Florida vs LSU live online for free at 3:30pm ET to see which team is more efficient in the ground game.
LSU has a whole mess of running backs it can throw at the Gators. Aside from Hilliard, there's also Michael Ford, Spencer Ware and Jeremy Hill, all of whom can give opposing defenses headaches. Tigers quarterback Zach Mettenberger has also been efficient for the team this year, coming into the matchup against Florida with 1,016 passing yards and six touchdown passes to just two interceptions. Be sure to watch Florida vs LSU as Mettenberger tries to balance out the Tiger's offensive attack.
Gators quarterback Jeff Driskel (698 passing yards, 4 TDs) has also been efficient through the air, completing 69 percent of his passes but the running game will likely be the key focal point for Florida in this one. Don't miss out on watching Florida vs LSU online live for free as it's sure to be a highly entertaining college football game.
Remember, all you have to do to watch Florida vs LSU live online absolutely free is visit FreeCast's Live Events page. There, you'll see the link for the LSU vs Florida live stream which you can click on to start watching SEC college football live online.
If you don't have a computer, you can also watch Florida vs LSU live online for free through your tablet or mobile device.