Free Dragon Ball GT Episodes Online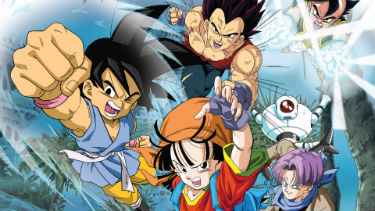 If you haven't heard the name "Dragon Ball" then chances are you live under a rock. It's one of the most popular anime series in history with 'Dragon Ball GT' being one of the shorter, yet highly popular, branches of the show. 'Dragon Ball GT' follows the adventures of Goku, who is turned into a child at the beginning of the series.
Goku must travel across the galaxy to retrieve the Black Star Dragon Balls, the Dragon Balls which turned him into a child in the first place. The series, which you can watch free episodes of online, follows Goku on his adventure along with his friends Pan and Trunks, as well as most of the Dragon Ball and Dragon Ball Z series regulars.
'Dragon Ball GT' consists of 64 episodes, all of which you can watch for free online with FreeCast! Our site offers full episodes of 'Dragon Ball GT', as well as thousands of other shows for free online.
You can watch them anytime you want on your computer, mobile device or tablet. It's a great opportunity to check out 'Dragon Ball GT' and all of your other favorite shows.
If you're a fan of the Dragon Ball series, anime and cartoons you would be a fool not to check out FreeCast. With our site, you can watch 'Dragon Ball GT' and all of your favorite shows on your own time, absolutely free. Head on over to FreeCast and get your fill of 'Dragon Ball GT' right now!
If you don't have a computer or a TV, you can always watch free episodes of 'Dragon Ball GT' through your tablet or mobile device.
[iframe width="97%" height="480″ src="http://www.youtube.com/embed/XOGwdeGZEJU"]