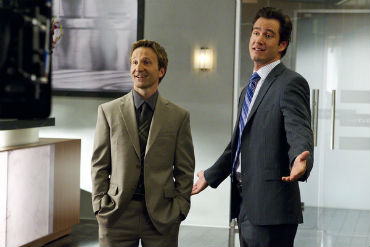 'Franklin & Bash' made its television debut on June 1, 2011 and you can watch all of the episodes leading up to season two for free online with the help of FreeCast.
New episodes of 'Franklin & Bash' air on TNT Tuesdays at 10 pm EST, but you can also watch full online episodes of the second season of 'Franklin & Bash' for free.
We understand how difficult it can be to watch all of your favorite TV show when you have a busy schedule, so we've made them available for you to watch online, absolutely free.
If 'Franklin & Bash' isn't your cup of tea, there are several other TV shows, new and old that you can also watch for free online, any time. Even if you're on the go, you can still watch full online episodes of your favorite programs through your mobile device with FreeCast.


'Franklin & Bash Info
Jared Franklin (Breckin Meyer) and Peter Bash (Mark-Paul Gosselaar) make being a lawyer look exciting and cool in TNT's 'Franklin & Bash'. Together, the two friends form a witty, and often humorous legal team and catch the eye of senior partner Stanton Infeld, who hires the eccentric duo to the Infeld Daniels law firm.
Show Characters/Actors
Jared Franklin (Breckin Meyer), Peter Bash (Mark-Paul Gosselaar), Stanton Infeld (Malcolm McDowell), Pindar Singh (Kumail Nanjiani), Carmen Phillips (Dana Davis), Damien Karp (Reed Diamond), Hanna Linden (Garcelle Beauvais)

[iframe width="97%" height="480″ src="http://www.youtube.com/embed/kADVAe9Zv9c"]