'Hotel Hell', featuring Gordon Ramsay, premiered on August 13 on Fox as part of a two-night premiere event. This new reality TV series follows Ramsay on his quest to help already-ruined hotels, inns and bed and breakfasts overcome their struggles and shortcomings . Ramsay has more than a decade of experience in restaurant management in some of the most prestigious hotels around the world.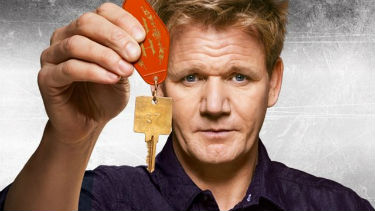 On Ramsay's journey though the country, he encounters some of the most sloppily-run establishments. From Lousy hotel staffs to disgusting bathrooms, Ramsay has his hands full in 'Hotel Hell'. Once he and his team of experts have identified the problems, Ramsay puts the hotel owners and employees to work in an effort to clean things up and establish a level of integrity.
This is probably the last chance that many of these hotels have at recovering and becoming profitable again (if they ever have been). Watch 'Hotel Hell' online for free to find out which hotels have a shot at improving and which ones don't.
'Hotel Hell' is the fourth TV series that Gordon Ramsay has hosted and narrated for the Fox network. Episodes of "Hotel Hell" can be watched on Mondays at 8pm ET on Fox. However, if you want to watch the show on your own time, just visit FreeCast online. With our site, you can watch 'Hotel Hell' for free online, as well as thousands of other hit TV shows.
Remember to visit FreeCast's Online Channel Guide to watch 'Hotel Hell' and all your favorite TV shows online for free.

[iframe width="97%" height="480″ src="http://www.youtube.com/embed/2qDAUeQiyS4″]