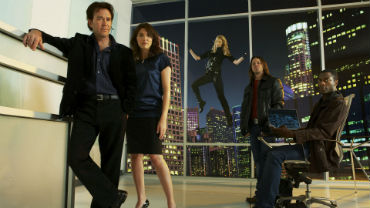 The fifth season of 'Leverage' premieres Sunday, July 15 at 8pm ET and you can watch it for free online the very next day. With FreeCast, we give you the ability to watch free episodes of 'Leverage' and several other action-drama series' completely free online.
It's time to stop searching and start watching all day, every day for free. If 'Leverage' isn't your thing, you can watch free online episodes of thousands of other shows, including dramas, comedies, sitcoms, sci-fi series, or watch free live coverage of major sporting events.
With free online episodes of your favorite shows, there's no longer any need to worry about missing them when they first air on television. You can just visit FreeCast online and start watching 'Leverage' and other shows whenever you want.


Leverage Synopsis
Nathan Ford (Timothy Hutton) has had enough of corporate greed and governmental injustices and he's ready to do something about it in TNT's 'Leverage'. Formerly an insurance investigator, Ford recruits a five-person team composed of a grifter, a thief, a hacker and a retrieval specialist, to steal back from the crooked elite what they have stolen from ordinary citizens.
[iframe width="97%" height="480″ src="http://www.youtube.com/embed/_nwJr8pxU14″]