Gavin Degraw Eliminated on 'Dancing with the Stars'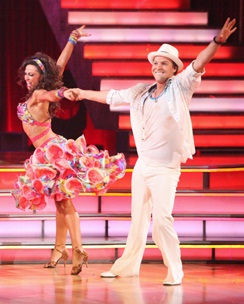 Tuesday night's episode of 'Dancing with the Stars' featured the two bottom couples competing in front of the judges to avoid elimination in the first-ever 'Dance Duels'. In this case, the stars going head-to-head were Gavin Degraw and Jaleel White.
The potential for elimination made for a heated first duel, as both teams broke out into simultaneous performances of the cha-cha, but in the end one of the couples had to go. In a unanimous decision, the judges made the decision to eliminate Gavin and save Jaleel.
It was certainly a heartbreaking moment for Degraw's fans, but as judge Len Goodman put it, "It's not about your favorite couple; It's not about who you feel sorry for; The dance duel is all about the dancing."