Giants vs Patriots NFL Preseason Game Live Online
The Giants vs Patriots preseason game streams live online Wednesday, August 29 at 7pm ET.
(Access to live streaming coverage of Giants vs Patriots requires a one-time fee.)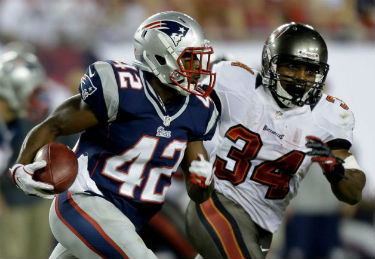 Lucky football fans will be able to watch a Super Bowl rematch between the New England Patriots and the New York Giants on Wednesday night at the two teams take the field for their final preseason game.
To watch the Patriots at Giants live online, just visit FreeCast's Live Events page. There, you will find links to high-quality, live streaming coverage of the NFL preseason.
It's uncertain how many snaps (if any) Tom Brady will take behind center for the New England Patriots on Wednesday night after getting slammed around in the team's last NFL preseason game against the Tampa Bay Bucs. If Brady doesn't play, NFL fans can still look forward to watching backup quarterback Ryan Mallet, who has shown a great deal of potential when given the chance. Watch the Patriots at Giants online live as the former Arkansas quarterback leads the New England offense.
Some players to watch out for on the Giants include 2012 first-round draft pick, running back David Wilson, linebacker Mark Herzlich and safety Kenny Phillips, who had a great season in 2011. Watch the Giants vs Patriots NFL preseason game live online and see what kind of an impact these players will have on the game.
On the Patriots, watch for newly-acquired wide receiver Brandon Lloyd, tight ends Aaron Hernandez and Rob Gronkowski and running backs Jeff Demps and Stevan Ridley. Demps recently won an Olympic gold medal for the US in track and field before joining New England. Be sure to watch the Giants vs Patriots live online to see if Demps will showcase his world-class speed on the football field.
The Giants have certainly got the best of the Patriots in recent years as Eli Manning has led the team to two Super Bowl victories against New England. Look for the Patriots to try and get a little revenge against the Giants when the week 4 NFL preseason game streams live online at 7pm ET.