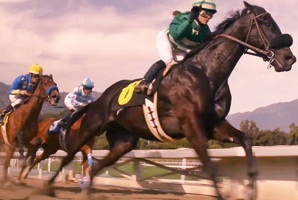 When HBO's series 'Luck' came out, it wasn't exactly a smash hit. Even with the hype over Dustin Hoffman's transition to television, the series premiere only drew 1.1 million viewers (surprisingly low for an HBO original series premiere), and since then the show has had a tough time bringing in as many as 500,000 viewers every Sunday.
The show itself isn't bad: dynamic characters, involving storylines, masterful cinematography, but for some reason it just wasn't attracting much attention, at least not positive attention. In fact, most of the talk circulating about the show had nothing to do with the show itself, but instead centered around what was happening on set.
During the filming of the series pilot, one of the horses used for filming broke its leg and was subsequently euthanized. Before long, a second horse was injured and also had to be euthanized. This bad luck brought on flurries of media criticism, with many action groups (including PETA) calling for the show to cease production before it happened again.
At the time, the show's producers shrugged off the condemnation, assuring naysayers that the highest safety standards were being followed. Unfortunately, their bad luck continued on Tuesday when a third horse died during production, at which point HBO suspended production to investigate the incidents. Last night, HBO announced that the show would be canceled, releasing the following statement:
It is with heartbreak that executive producers David Milch and Michael Mann together with HBO have decided to cease all future production on the series LUCK.
Safety is always of paramount concern. We maintained the highest safety standards throughout production, higher in fact than any protocols existing in horseracing anywhere with many fewer incidents than occur in racing or than befall horses normally in barns at night or pastures. While we maintained the highest safety standards possible, accidents unfortunately happen and it is impossible to guarantee they won't in the future. Accordingly, we have reached this difficult decision.
We are immensely proud of this series, the writing, the acting, the filmmaking, the celebration of the culture of horses, and everyone involved in its creation.
Quote from Michael Mann and David Milch: "The two of us loved this series, loved the cast, crew and writers. This has been a tremendous collaboration and one that we plan to continue in the future."
Do you think the show deserved to get the boot?  Let us know what you think by leaving a comment.