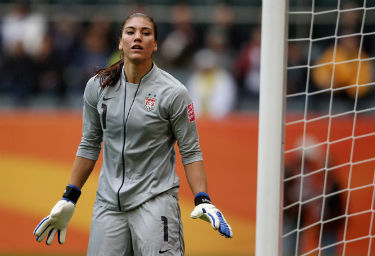 Hope Solo, the star goalie from the U.S. women's soccer team, tested positive for a banned substance in a June 15 urine test, much to her own surprise.
The substance, Solo said, was taken for "pre-menstrual purposes" but contains a diuretic known as Canrenone which is on the U.S. Anti-Doping Agency's prohibited list nonetheless.
When she first found out that there was a problem with her urine test, Solo said she fully cooperated the USADA, providing them with all the information she could.
Solo's story checked out as the USADA discovered that her own personal doctor had prescribed the medication which contained Canrenone in therapeutic doses. As a result, the U.S. women's goalkeeper only received a public warning by the USADA instead of a suspension. She will still be competing as the goalie for the U.S. women's soccer team in the 2012 Olympic Games in London.

The USADA strongly encourages athletes to use careful discretion when taking different medications and dietary supplements in the hopes of avoiding situations like the one Solo encountered on Monday after a positive drug test.
In just this year, 13 other American athletes have received sanctions from the USADA for having banned substances in their system and only Solo and two other U.S. athletes on that list steered clear of facing suspensions.
Solo is more aware than ever of the USADA's strict drug policies now and is looking forward to competing for another gold medal as her U.S. women's soccer team heads into the 2012 Olympics.