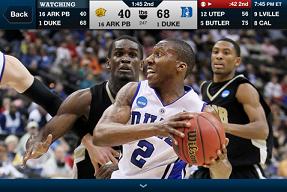 CBS keeps it real while Turner turns it into a pay-per-view deal
The month of March is underway, and to millions of sports fans around the world, that means one thing: March Madness. The NCAA Division I Men's Basketball Tournament, popularly labeled 'March Madness', is one of the biggest sporting events of the year, with viewership in 2011 having reached a whopping 134 million over the course of the tournament, more than a 25% increase from the previous year.
So what accounted for this huge boost in viewership between 2010 and 2011? Obviously there were a number of factors involved, but what really made last year's March Madness unique was the fact that CBS and Turner offered all 67 games live online for free, for the first time in history, with what they branded as 'NCAA March Madness On Demand'.
Though no one was really sure what to expect, the March Madness On Demand (MMOD) campaign ended up being a monumental success. Between live game coverage and on-demand footage, the platform averaged over 1.9 million unique visitors per day on broadband sites and more than 680,000 daily viewers on their mobile applications.
The shocking success of MMOD has since led other major sporting events (including the Super Bowl) to offer free online coverage, but this year it seems Turner Sports is taking a step backwards by slapping a fee on its live online streams. Those games covered by CBS will still be available for free on their network website, but online streams of the games covered on TNT, TBS or TruTV will require either a cable subscription authentication or a $3.99 fee.
Sure, four bucks may not seem like a lot of money, but if Turner was so successful with last year's free coverage, what reason do they have to charge users this year? Regardless of the reason, aren't the fans the ones who are really losing out?
With so much progress being made in the world of online sports coverage, one hopes that Turner's move isn't the first step toward all online sporting events becoming pay-per-view deals.

Don't forget, you can watch all the action of March Madness LIVE via Facebook with the FreeCast app! Visit our Facebook page at facebook.com/2012BasketballTournament..