(Live streaming MLG Summer Championship coverage begins Friday, August 24 at 5pm ET.)
The world's best gamers are preparing for the ultimate video game competition, the MLG Summer Championship, which will stream live online Friday, August 24, starting at 5pm ET. Major League Gaming will be streaming the competition online live and you can visit FreeCast to find direct links to all the MLG Summer Championship action.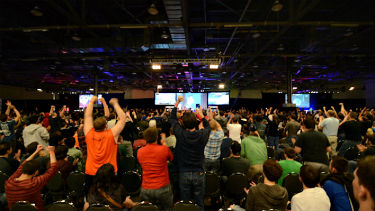 The 2012 MLG Summer Championship is held in Raleigh, N.C. and takes place from August 24-26.
MLG will be offering multiple free live streams as well as premium streams which are only available to watch online if you have an HD Pass.
The video games featured at the 2012 MLG Summer Championship are Mortal Kombat, Soul Calibur V, StarCraft II and League of Legends. Watch the MLG Summer Championship live online for free and find out who the best players are for each of these video games.
MLG competitors will be battling it out for a total prize pool of over $200,000 in 2012 and you can watch them get after it live online. The event draws only the most intense, highly-skilled gamers who are all looking to make a name for themselves among the video game world. If you consider yourself a true video game fan, you'll want to be sure to watch the MLG Summer Championship live online for free as soon as the video game competition gets underway.
With the help of FreeCast, you can watch free live streaming coverage of the MLG Summer Championship online beginning at 5pm ET on Friday. Live streaming coverage will pick back up on Saturday and Sunday at 10am ET. Finals for Mortal Kombat and Soul Calibur V will be held on Saturday at 7pm ET and 9:30pm ET, while Virtual Fighter V and Skullgirls Expo Finals will also be streaming live online for free at 10pm ET.
The finals for League of Legends will stream live online beginning at 3:30pm ET on Sunday, followed by the StarCraft II Finals, streaming live online at 5pm ET to wrap up the 2012 MLG Summer Championship in Raleigh.