(Access to live streaming coverage of MLS games requires a one-time fee.)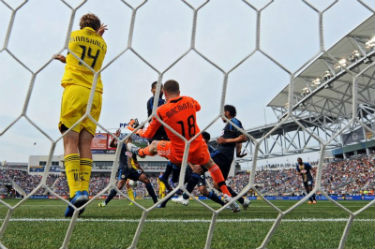 There's no reason why Major League Soccer fans should have to result to watching only a few games on TV each week while several games are streaming live online. With MLS Live, nearly every MLS soccer game is available at your fingertips. After paying a small annual or monthly fee, you'll be able to watch MLS soccer online live with the help of FreeCast.
Just visit our Live Events page and we'll direct you straight to live streaming, high-quality HD coverage of whatever MLS games you're looking to watch online.
The MLS season is getting into crunch time right now as several teams are fighting for a spot in the 2012 MLS Cup Playoffs and you can watch all your favorite teams get after it live online. The L.A. Galaxy won its third MLS Cup in 2011 and is currently sitting in fourth place in the Western Conference, while the San Jose Earthquakes are in first, looking to make a strong push for their third MLS Cup as well. Watch MLS soccer online live to see if the Earthquakes can continue playing strong heading up to the MLS Cup Playoffs.
In the Eastern Conference watch out for teams like the New York Red Bulls, Houston Dynamo and Sporting Kanas City, who is currently sitting in first place. The Red Bulls have never won an MLS Cup so be sure to watch them play live online as they try to bring it home for the first time in 2012.
Remember to visit FreeCast to watch live streaming coverage of MLS soccer all season-long. Just go to our Live Events page (after registering on MLS Live) and we'll direct you straight to all the live MLS action online. If you can't get to a computer or television, you can always watch MLS soccer live online through your tablet or mobile device.