Nationals vs Cardinals Game 3 Live Online
Live coverage of Washington vs St Louis Game 3 starts Wednesday at 1:07pm ET.
(Live streaming coverage of all MLB playoff games requires a $4.99 one-time fee.)
Note: MLB's Postseason TV package is available to US and Canada residents only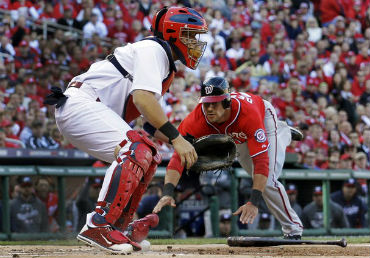 The Washington Nationals, who own the best regular-season record in the MLB this year, are getting set to play the first playoff game in the nation's capital in 79 years. On Wednesday night, they will face off against the St Louis Cardinals at Nationals Park in D.C. in game 3 of the National League division series.
As is the case for nearly every 2012 MLB postseason games, baseball fans can watch the Nationals vs Cardinals live online from start to finish. To watch Washington vs St Louis live online, all you have to do is pay a one-time fee of $4.95 for MLB's Postseason TV package. After paying that fee, you will have access to full live coverage of the American League and National League division series' as well as the American League Championship series.
Just head on over to FreeCast's Live Events page to find the MLB postseason live stream link. Click on that link to begin watching the Nationals vs Cardinals game 3 live online Wednesday at 1:07pm ET.
Washington will look to rebound after suffering a 12-4 loss in game 2 of the National League division series. With the series tied 1-1, the team has to feel good about having three straight games at home (if needed) to try and finish the job against the reigning World Series champion Cardinals.
On Wednesday, the Nationals will send Edwin Jackson to the mound, who was actually part of the St Louis Cardinals team that won it all last season. Jackson, the only starting pitcher on the Nationals to have pitched in an MLB playoff game before this season, is 1-1 with a 4.91 ERA in his brief postseason career. Watch the Nationals vs Cardinals live online with FreeCast as Jackson looks for his second career playoff win.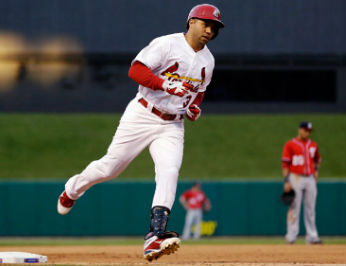 Chris Carpenter will make the start for St Louis, despite the fact that the 37-year-old righty has only pitched a total of 17 innings this year due to a nerve problem in his throwing arm. However, Carpenter recovered faster than expected and will look to build on his already-impressive 9-2 career postseason record. Carpenter also beat the Texas Rangers in game 7 of the World Series last year. Watch the Cardinals at Nationals live online as Carpenter looks for his 10th playoff win.
St Louis' bats really came alive in game 2 against the Nationals, racking up 12 runs on 13 hits. The Cardinals hit four homers in that game, two of which came off the bat of Carlos Beltran. The veteran right fielder is hitting .375 so far in the 2012 MLB postseason while 2011 World Series hero David Freese is hitting .429. Be sure to watch the Cardinals vs Nationals live online with FreeCast to see if Freese and Beltran can lead St Louis to a 2-1 series lead on the road.
The big Washington bats to watch out for when the Nationals vs Cardinals streams live online include Ryan Zimmerman, rookie sensation Bryce Harper, Michael Morse and Ian Desmond, who is hitting .500 so far in the National League division series. You won't want to miss out on watching the Cardinals at Nationals online live as soon as game 3 gets going at 1:07pm ET, especially with the playoff series currently tied at one game apiece.
Just remember to visit FreeCast to watch the Nationals vs Cardinals game 3 live online as well as the other three MLB playoff series' currently taking place. We'll help you watch the Cardinals vs Nationals game 3 live online in addition to all the great 2012 MLB postseason matchups.