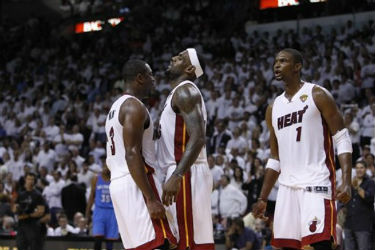 Even a 2012 NBA Finals-high 43 points from Russell Westbrook wasn't enough to get the Oklahoma City Thunder a crucial win in Game 4, as they lost their third straight to Lebron James' Miami Heat.
After shooting lights-out in the first quarter to jump out to an early 33-19 lead, the Thunder cooled down in the second and saw their lead get cut down to three at halftime (49-46).
While Westbrook continued putting together a Game 4 highlight reel of his own, going 20-32, the rest of his team seemed to be lagging behind, especially on the offensive end. James Harden, who had been praised for his tenacity and game-changing ability coming into the 2012 NBA Finals, continued to be virtually a non-factor in the series, scoring just eight points on 2-10 shooting in 37 minutes.
The game remained close in the fourth but the Heat never let go of the momentum, thanks in large part to Mario Chalmers who had no problem finding a lane to the basket. He finished with 25 points on 9-15 shooting.
Westbrook also made a crucial error in the final seconds of the game when, down three, he fouled Chalmers to send him to the line, not realizing that the Heat had just over five seconds left on the shot clock after a jump ball. Chalmers hit both free throws to put the Heat up by five and the game was in the books (104-98).
Westbrook and Kevin Durant simply can't do it all for the Thunder, especially when the Heat are getting major contributions from Mario Chalmers, to go along with the usual stat lines put up by Lebron James, Dwyane Wade and Chris Bosh. Even point guard Norris Cole came up big for the Heat, scoring eight points in eight minutes in the second half.
When looking at the box score recap of Game 4, it's obvious why the Thunder came up short; Durant and Westbrook were the only ones on the team who scored in double digits.
Now facing a win-or-go-home Game 5 on Thursday in Miami, the Thunder will need other role players to step up if they want to extend the series to a Game 6 in Oklahoma City. Tune in to FreeCast on Thursday at 9:00 p.m. EST to watch Game 5 live.