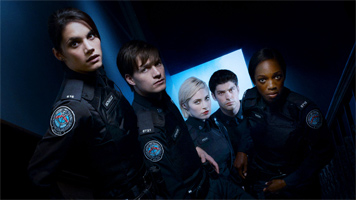 It feels like spring has barely even begun, but before long summer will be upon us, and aside from the heat and humidity, this summer will be bringing a new lineup of Primetime shows to cable. So get your DVRs ready, because here's FreeCast's preview of what you can look forward to in the coming months on ABC:
'Duets' (May 24 at 8p EST)
An interesting new music competition developed by ABC where the judges leave their comfortable tables and chairs behind to join the contestants on stage.  Hosts Kelly Clarkson, Jennifer Nettles, Lionel Richie and Robin Thick will kick things off with a two hour premiere on May 24.

The Return of 'Rookie Blue' (May 24 at 10p EST)
Sure, it's not technically a 'new' show, but based on the popularity of this cop drama's debut, a lot of TV fanatics will be looking forward to the show's continuation.  The series follows a group of rookies as they learn the ropes and try not to screw up.
'Trust Us With Your Life' (July 10 at 9p EST)
Fred Willard will host this new improv show, which will include special guests such as Ricky Gervais, Florence Henderson, David Hasselhoff, Mark Cuban and many more. The back-to-back premiere on July 9 should certainly be worth a watch.
'Final Witness' (July 10 at 10p EST)
Across between a documentary and a drama, this new show takes viewers through the chains of events that lead to murders, combining actor portrayals with real-life witness testimonials.
Also returning to ABC this summer will be reality shows 'Secret Millionaire' (June 3 at 8p EST), 'Extreme Makeover: Weight Loss Edition' (June 3 at 9p EST), and 'Wipeout' (June 28 at 9p EST).