Olympic Judo – Watch Live Online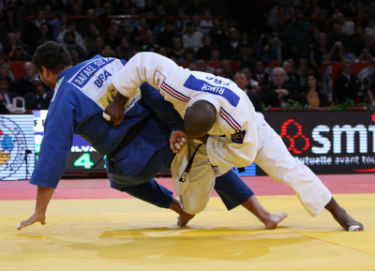 Get ready to watch athletes get thrown to the mat as judo matches for the 2012 Olympic Games in London get underway on Saturday, July 28 at 4:30am ET.
For those who aren't familiar with how the Olympic sport of judo works, there's no punching or kicking allowed. Instead, competitors try to throw opponents to the mat on their back, in addition to choking them (without injuring their necks) and applying arm locks to their elbows.
The 2012 Olympic Judo matches will involve seven weight classes for both the men and the women, with 14 gold medals up for grabs. You can watch 2012 Olympic Judo live online for free as soon as the matches get going with the help of FreeCast.

In 2012 Olympic Judo, watch for the Japan to try and get back to dominating the sport. Japan has earned far more Olympic medals in judo than any other country but with the exception of Misato Nakamura and Takamasa Anai, who has been the Japanese champion in the men's 100-kilogram weight class four straight years, Japan's judo team is filled with first-time Olympians. Watch these Japanese judo veterans compete live online for free as they try to lead their young team to Olympic glory.
When Olympic judo matches begin, you'll also want to be sure to watch Naidan Tuvshinbayar of Mongolia compete in the men's 100 kg live online for free as he goes for a second straight gold medal in the event. Tuvshinbayar won Mongolia's first ever gold medal last time around in Beijing and he and teammate Tsagaanbaatar Khashbaatar will look to make more history in the London Games, which you can watch live online, absolutely free.
For the US Olympic Judo Team, No. 4-ranked Kayla Harrison (78 kg) will likely have the best chance at taking home a gold medal, that is, if she can get past No. 1-ranked
Mayra Aguiar of Brazil.
Some other names to watch out for when 2012 Olympic Judo begins streaming live online are France's five-time world champion Teddy Riner, Great Britain's Ashley McKenzie and Judoka Maher Abu Rmeileh, who becomes the first Palestinian ever to compete in the Olympics. Watch Rmeileh compete in the 73 kg weight class live online for free to see how well he represents his country as its first ever Olympic competitor.
Remember to visit FreeCast to watch Olympic judo live online for free, starting at 4:30am ET on July 28. You even watch 2012 Olympic judo live online for free through your mobile device if don't have a computer or a TV.
Olympic Judo
Women's Heavyweight (+78kg) Preview – Friday, August 3: In Women's Heavyweight Judo, which gets going on Friday with round of 32 matches and concludes with the gold medal match, look for China's Tong Wen to try and defend her Olympic gold medal from Beijing as she faces Mexico's Vanessa Zambotti in her first match at 5:26am ET. The winner of that match will go on to face Poland's Urszula Sadkowska (has a bye through round of 32) in the round of 16. Other judoka athletes that have a great chance at making it all the way to the Gold Medal Final at 11am ET include Cuba's Idalys Ortiz and Slovakia's Lucija Polavder, both of whom won a bronze medal in Beijing.
Men's Heavyweight (+100kg) Preview – Friday, August 3: Men's Heavyweight Judo matches will get started on Friday with a bout between France's Teddy Riner, who is looking for a second-consecutive Olympic medal in the event, and Poland's Janusz Wojnarowicz at 4:30am ET. Other heavyweights to watch include Japan's Daiki Kamikawa, who's fighting Darrel Castillo of Guatemala in the round of 32, as well as Cuba's Oscar Brayson, who won a bronze medal in Beijing.  The gold medal match for the Men's heavyweight Judo division is scheduled for 11:10am ET.
Men's Half Heavyweight (100kg) Preview – Thursday, August 2: Men's Half Heavyweight Judo matches begin at 4:40am ET in the round of 64 and will go all the way to the Olympic medal matches which begin at 9:28am ET. Among the names to watch are defending Olympic 100kg champion Tuvshinbayar Naidan of Mongolia and Beijing Olympics bronze medalist Henk Grol from Ireland. Look for both of these fighters to make their way through the competition on Thursday.
Women's Half Heavyweight (78kg) Preview – Thursday, August 2: The contenders in the Women's Half Heavyweight division will begin fighting at 5:19am ET as the round of 32 gets underway. Some interesting matches to watch are USA's Kayla Harrison vs Russia's Vera Moskalyuk at 6:15am ET (both fighters have a bye in round of 32) and China's Xiuli Yang vs Aye Aye Aung of Myanmar at 6:29am ET. Yang won the Olympic gold medal in the event at the Beijing Olympics and is a favorite for the gold once again. Matches for Olympic medals begin at 9am ET with the Bronze Medal Finals.
Men's Middleweight (90kg) Preview – Wednesday, August 1: Georgia has won the gold medal in the Men's Middleweight Judo in the past two Olympics and they have a chance at taking home the gold yet again if Varlam Liparteliani can live up to his potential when it matters most. Other names to watch for are Beijing Olympics bronze medal winner Hesham Mesbah of Egypt and Mark Anthony of Australia, who has a bye in the round of 32. The men will start competitions at 4:30am ET and the matches for Olympic medals will begin at 9:28 ET.
Women's Middleweight (70kg) Preview – Wednesday, August 1: Look for the Netherland's Edith Bosch, Japan's Haruka Tachimoto and Cuba's Onix Cortes Aldama to all be in the running for Olympic medals on Wednesday as Women's Middleweight Judo competitions begin with the round of 32 at 5:15am ET. Bosch will start off with a bye, while Haruka and Aldama will face one another in the round of 16 at 6:22am ET. Finals for Women's Middleweight Judo will begin at 9am ET with a bronze medal match-up.
Men's Half Middleweight (81kg) Preview  – Tuesday, July 31: In Tuesday's half middleweight judo competitions, watch for Germany's Ole Bischof to try and defend his gold medal from the Beijing Olympics. He will be competing in the round of 32, along with defending Olympic silver medalist Kim Jae-Bum of South Korea and Travis Stevens of the US, all of whom have byes in the round of 64. Watch Olympic judo live online for free and find out if a new half middleweight champion will be crowned.
Women's Half Middleweight (63kg) Preview – Tuesday, July 31: Olympic competitions for women's half middleweight judo start with the women's round of 32 on Tuesday at 4:37am ET. Among the half middleweight judoka athletes to watch out for at the London Games are 2008 Olympic bronze medalist Elisabeth Willeboordse of the Netherlands, Japan's Yoshie Ueno and France's Gevrise Emane.
Men's Judo Results
Extra Lightweight (60kg): Gold – Arsen Galstyen (Russia), Silver – Hiroaki Hiraoka (Japan), Bronze – Felipe Kitadai (Brazil),  Rishod Sobirov (Uzbekistan)
Half Lightweight (66kg): Gold – Lasha Shavdatashvili, Silver – Miklos Ungvari (Hungary), Bronze – Masashi Ebinuma (Japan), Cho Jun-Ho (South Korea)
Lightweight (73kg): Gold – Mansur Isaev (Russia), Silver – Riki Nakaya (Japan), Bronze – Nyam-Ochir Sainjargal (Mongolia), Ugo Legrand (France)
Women's Judo Results
Extra Lightweight (48kg): Gold – Sarah Menezes (Brazil), Silver – Alina Dumitru (Romania), Bronze – Charline van Snick (Belarus), Eva Csernoviczki (Hungary)
Half Lightweight (52kg): Gold – Kum Ae An (North Korea), Silver – Yanet Bermoy Acosta (Cuba), Bronze – Rosalba Forciniti (Italy), Priscilla Gneto (France)
Lightweight (57kg): Gold – Kaori Matsumoto (Japan), Silver – Corina Caprioriu (Romania), Bronze – Marti Malloy (USA), Automne Pavia (France)
Men's Preview: Japan took home two judo gold medals in Beijing, but with mostly first-time Olympians on their seven-man team this time around, their chances for gold aren't as strong in London. The men to watch in Olympic judo competitions are Heavyweight Teddy Riner of France, who is a gold medal favorite, Elnur Mammadli  of Azerbaijan and Ilias Iliadis of Greece, who won the Half-Middleweight gold in 2004. South Korea's Kim Jae-Bum will also be a medal contender in the Half-Middleweight class, while Japan's Masashi Ebinuma is the clear gold medal favorite in the Half-Lightweight division.
Women's Preview: Japan has won nine Olympic gold medals in women's judo over the years, but the sport becomes much more competitive among different countries this year. Among the names to watch are China's star, Yang Xiuli (78 kg), the defending Olympic champion in the Half-Heavyweight class, Japan's Yoshie Ueno, who has won three straight World Championships, France's Gevrise Emane and Brazil's rising star, Sarah Menezes (48 kg).