Live coverage of Baltimore vs New York Game 2 starts Monday at 8:07pm ET.
(Live streaming coverage of all MLB playoff games requires a $4.99 one-time fee.)
Note: MLB's Postseason TV package is available to US and Canada residents only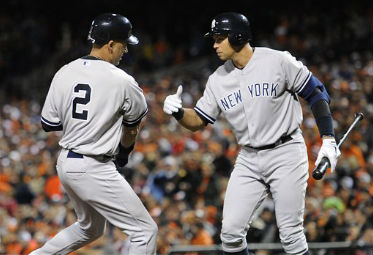 Yankees ace CC Sabathia had his way the Baltimore Orioles lineup in Game 1 of the American League division series and now New York is focused on going up 2-0 before heading home to Yankee Stadium. The Yankees will face off in Game 2 of the ALDS on Monday night and after paying a one-time fee for MLB's Postseason TV package, baseball fans can watch the Yankees vs Orioles live online with the help of FreeCast.
That one-time fee will give you direct access to full live coverage of the MLB playoffs and FreeCast is your one-stop destination for all the live streaming MLB Postseason action. Upon arriving at our site, just click on the link to our Live Events page where you'll see a Live Streaming Coverage Guide that includes a link for the Orioles vs Yankees live stream. Click on that link to start watching the Yankees at Orioles live online at 8:07pm ET.
Sabathia frustrated Baltimore's lineup in Game 1 of the American League playoff series, going 8 2/3 innings while allowing just two earned runs. The game was tied 2-2 until the ninth inning when New York tacked on five runs to seal up a win at Camden Yards in Baltimore.
The victim of the ninth-inning explosion was Orioles closer Jim Johnson, who led the majors in saves this year with 51. Watch the Orioles vs Yankees playoff game live online with FreeCast to see if Johnson and the Baltimore pitching staff can recover from a tough Game 1 loss.
In Game 2 of the Yankees vs Orioles playoff series, 40-year-old Andy Pettitte will take the mound for New York, looking to win his 20th MLB playoff game. His 19 career playoff wins is already the most by any pitcher in MLB playoff history. Watch the Yankees vs Orioles playoff game live online as Pettitte tries to add to his record postseason win total.
Rookie left-hander Wei-Yin Chen (12-11, 4.02 ERA) will get the nod for the Orioles Monday night in Baltimore. Chen is 1-2 with a 5.25 ERA in four starts against New York this season and will be making his first-ever postseason appearance. Be sure to watch the Orioles vs Yankees live online to see how Chen performs on the big stage that is the MLB playoffs.
Baltimore left seven runners on base in their Game 1 loss to New York, going just 2-9 with runners in scoring position. Now they get Andy Pettitte, who is 28-6 in 42 starts and two other appearances against Baltimore and 7-0 in his last seven starts against them. Watch the Yankees vs Orioles online live with FreeCast as Mark Reynolds, Adam Jones, Matt Wieters and the rest of the Orioles lineup try to put an end to Pettitte's hot streak.
Chen will have his hands full trying to get through a New York Yankees lineup that includes Derek Jeter, Curtis Granderson, Alex Rodriguez, Mark Teixeira and Ichiro Suzuki, who just hopped on the Yankees bandwagon midway through the season in the hopes of getting his first World Series ring. Be sure to watch the Orioles vs Yankees playoff game online live as Chen tries to help Baltimore even the series at one game apiece.
All you have to do to watch Baltimore vs New York live online Monday night is visit FreeCast's Live Events page. From there, we'll help guide you to live streaming coverage of New York vs Baltimore so you can begin watching the Yankees at Orioles live online.