Rabbit TV's VOD service continues to grow over-the-top of a rapidly evolving Internet TV landscape

ORLANDO, Fla., Jan. 31, 2014 /PRNewswire/ — Just months after surpassing 2 million users, FreeCast's over-the-top VOD & PPV eMedia guide Rabbit TV is already continuing to outpace sales subscriptions of some of the most successful tech startups to date.
The service's growth is especially impressive considering how quickly it reached 1 million subscribers compared to most top tech startups, outlined in the list below (with sources):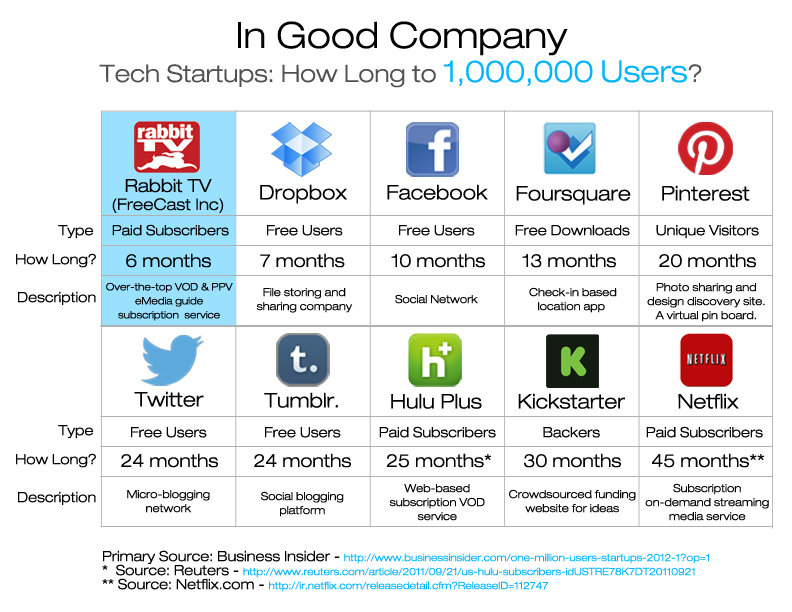 Rabbit TV – 6 months
Facebook – 10 months
Foursquare – 13 months
Pinterest – 20 months
Twitter – 24 months
Tumblr. – 24 months
Hulu Plus – 25 months*
Kickstarter – 30 months
Netflix – 45 months**
Primary Source: Business Insider (2011)
* Source: Reuters (2011)
** Source: Netflix.com (2003)
(For more information and a visual representation of this data, go to http://bit.ly/rtvcompared)
As shown above, Rabbit TV took a mere 6 months to reach the same milestone many popular services didn't reach for over a year, and the service isn't showing any signs of slowing down. To add even more, unlike most of these free membership startups, Rabbit TV users are paid subscribers – building a solid revenue foundation which should attract stock market interest in the near future.
One of the keys to Rabbit TV's rapid success was the partnership between its operating company FreeCast and direct-response marketing giant Telebrands, the 'As-seen-on-TV' originators who distribute Rabbit TV through dedicated shelf space at 30,000+ retail locations nationwide, including Walmart, Target, Office Depot, Bed Bath & Beyond, Sears, Walgreens, CVS, Rite-aid and many more.
Following a successful CES that included a chain of heavily publicized unveilings by FreeCast, the company is expecting huge growth with the upcoming release of its new products. Launching this month is its newest product iteration Rabbit TV Plus, which provides subscribers with deviceless access to the eMedia guide from smartphones and tablets. Among other forthcoming products is a next-generation micro set-top box called Rabbit TV Select, a fully-functional quad-core PC designed to make any TV 'The Smartest TV Ever.'
More information:
Company – https://freecast.com
Network – http://rabbittvgo.com
Startup Comparison Chart – http://bit.ly/rtvcompared