Rabbit TV First Time User Guide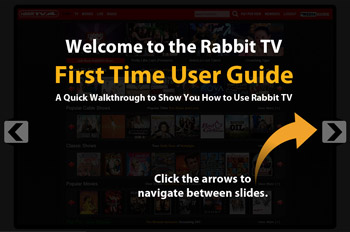 At Rabbit TV, we're all about making your experience as easy and fun as possible, and that's why we created the new Rabbit TV First Time User Guide. The First Time User Guide walks you through the primary sections of Rabbit TV, explaining how to make sure you get the most our of your Rabbit TV experience.
As time goes on, we'll be adding more and more content to the User Guide, creating a one-stop guide to everything Rabbit TV. You can find the guide by mousing over 'Members' in your Rabbit TV toolbar and click 'Quick Guide', or by clicking the link at the top of the Rabbit TV homepage. Be sure to check back from time to time to see any new additions to the guide.