An objective review of Rabbit TV and what it has to offer – written by the guys who built it
Rabbit TV has been getting a lot of attention lately, but it doesn't seem like there are any reliable, in-depth Rabbit TV reviews on the Internet, so we decided to go ahead and do a complete review of Rabbit TV features – what Rabbit TV can do, what Rabbit TV can't do, and what makes Rabbit TV different from other similar products – an objective Rabbit TV review (the first in-depth Rabbit TV review so far).  To be clear, this is NOT an opinion-based review of Rabbit TV, but instead an in-depth review of Rabbit TV's features and capabilities.
What Rabbit TV is…
A Web-based USB Device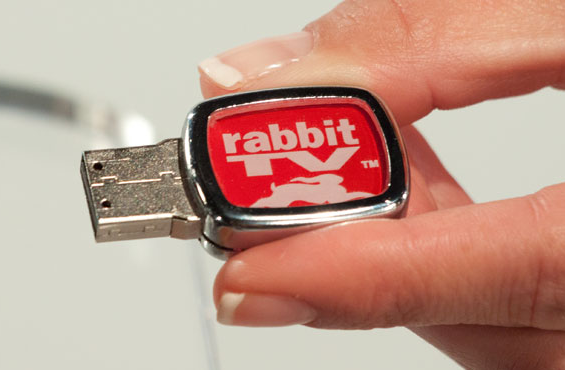 Let's jump right into it. Put simply, Rabbit TV is a USB device that plugs into any computer (PC or Mac) and connects you to Rabbit TV's web-based guide service that helps you find and watch live and on-demand video from all over the Internet, whether it's TV episodes, movies, sports, news, music videos, whatever. The USB only acts as a key to the Rabbit TV Guide – it does not install any software, but rather ensures that the user is a Rabbit TV member before granting him or her access to Rabbit TV.
A Comprehensive Digital Media Guide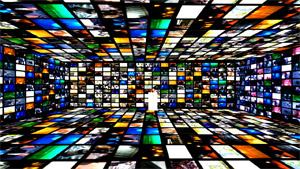 Rabbit TV is a guide to watching TV online (by TV here I mean everything you would watch on TV, plus a lot more). The Rabbit TV system searches, updates, categorizes, recommends, and manages over 2 million videos daily, organizing a huge amount of high-quality content into a simple, easy-to-use interface that connects you with the content you want in the fastest way possible.
A Potential Alternative to Cable and Satellite
Rabbit TV doesn't own or host any of the content we link to, so we can't provide you with the same exact experience you get with Comcast or DirecTV for free, but we do have more than enough content to keep you occupied, including thousands of full episodes from the most popular TV networks (the same ones you watch on cable), hundreds of movie libraries, live sports streams (including NFL, NBA, etc.), news programs and more. Rabbit TV even provides complete cord-cutting solutions to fill in the content gaps with quality, affordable companion products and services. If you're willing to make the transition, you'll quickly find how much money you can save on cable and satellite bills while still getting all the entertainment you could ever want.
What Rabbit TV isn't…
A Free Cable/Satellite TV Provider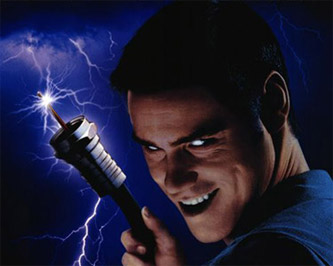 Contrary to what some may think (or hope), Rabbit TV is not the same as a regular cable or satellite provider.  You won't be able to use Rabbit TV to flip through live feeds of regular broadcast and cable channels like you can with Comcast or DirecTV – Rabbit TV does, however, link you to free on-demand content from almost all of the major networks you get on cable and satellite, along with a selection of live scheduled news, sports, entertainment, lifestyle and kids channels.  For example, Rabbit TV links to over 25,000 full episodes from most popular networks, like ABC, NBC, Fox, History, MTV, Discovery, and many more (see "Rabbit TV Content Overview" below for more about our content selection). Rabbit TV also links to thousands of FREE Movies from around the world, along with Live Sports Streams from Every Major Sport, Live & On-Demand News Broadcasts.  Rabbit TV even has a selection of Live Scheduled TV Channels, but not the hundreds of live channels you get with the big boys.
Why not, you ask? The answer is simple: securing rights to live broadcasts from major networks costs a lot of money (one of the reasons your cable bills keep rising). Rabbit TV is all about providing you with as much content as possible for FREE. Rabbit TV also connects you with loads of premium content, so you can decide what you want to pay for, instead of being forced to pay for everything when you only watch a little.
As stated above, Rabbit TV gives you everything you need to stay entertained without having to pay a ridiculously high cable bill, but it's not the same as cable and satellite. The transition to a cable-free lifestyle might take some getting used to, but in the end you'll be spending only a fraction of what you were, while still enjoying all your favorite programming plus much more.
A Scam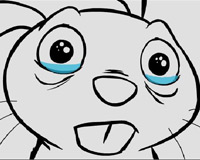 For some reason, there are a few bloggers out there who want to spread a bad image of Rabbit TV just to get traffic and make some quick cash by selling competing services. These so-called "SCAM ALERTS" claim that Rabbit TV is no more than a clever ruse to trick you out of hundreds of dollars. They also claim that the Rabbit TV USB is fraught with errors, instructions in Chinese, and that the Rabbit TV network (Rabbit TV Go) is just a bunch of broken links to foreign websites.
We're not entirely sure where these scam-artists got their information (especially since these scam alerts started popping up months before Rabbit TV was released). The truth is Rabbit TV only costs $10, and if you want to keep using it after a year it's $10 a year from then on.  If you don't want to continue your Rabbit TV subscription, you can cancel at any time – no hoops to jump through, no hidden fees, no tricks, no scam.
As far as the broken links to foreign websites, Rabbit TV is designed to constantly update and check links, which means that any errors or broken links are fixed almost immediately.  While our guide does include nearly 2000 worldwide/foreign channels, they only make up a small portion the content we link to (see Rabbit TV Content Overview below for more info on Rabbit TV content. Rabbit TV doesn't control any of the content it links to, so we can't help it if someone else changes their content, but if they do we find out and reduce broken links to an absolute minimum.
The Difference
Unlike set-top boxes, which tend to complicate things with hundreds of stand-alone apps for each service, Rabbit TV simplifies the experience by combining all content sources into one easy-to-use guide.
Unlike Cable/Satellite Providers, which give you scheduled programming with a small window for on-demand options, Rabbit TV is continually adding to its on-demand library, allowing users to access content at any time.
Rabbit TV Content Overview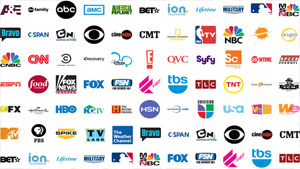 A lot of people have been asking us for a "Rabbit TV Channel List", so in this blog I'm going to give you an overview of each content section available in Rabbit TV, along with what you'll find in those sections:
TV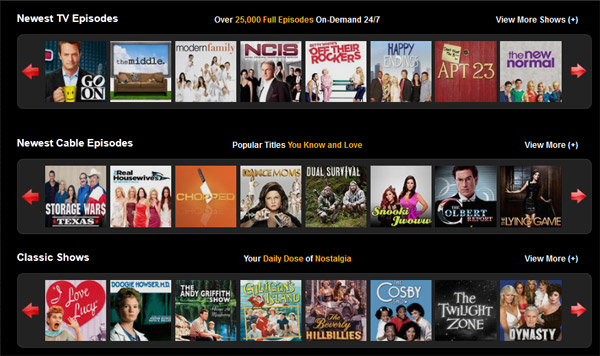 Our TV section is the most popular of the Rabbit TV content sections, with a large selection of on-demand TV shows, channels and video sites, including:
Current and Classic TV Shows
Original Web Series
Worldwide TV Channels and Video Sites
Local US TV Channels and Video Sites
Sports Video Sites
News Stations and Video Sites
Tech Video Libraries
Children's Programming
and much more…
In total, there are currently somewhere around 5000 channels available through the TV section of Rabbit TV, including over 25,000 full episodes from popular and classic TV series available on-demand 24/7. Rabbit TV is constantly adding new channels, episodes and other video content, so these numbers grow on a daily basis.
Movies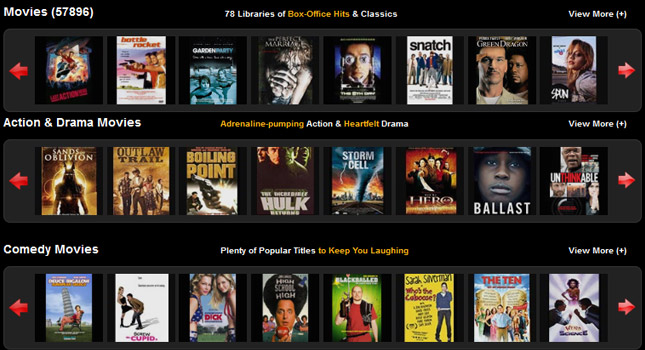 The Rabbit TV Movies section links you to a variety of free movie libraries (nearly 100 in total), connecting Rabbit TV users to thousands of free movies in total. Rabbit TV also has a "Pay Per View Movies" section, where Rabbit TV users can stream the latest box office hits in seconds. Most premium movies are available for as low as $1.99 per rental.
The Rabbit TV Movies section is broken down into sub-sections based on genres, with genres including:
Popular
Foreign/Independent
Sci-fi
Horror
Documentaries
Classics
Seasonal
Midnight Movies
Pay-Per-View
Between the free and premium movie selections, Rabbit TV more than trumps cable and satellite TV in the movie department.
Live
Rabbit TV's Live section is one of the more revolutionary sections available through Rabbit TV.  The Rabbit TV system searches for live sports and event streams (both free and premium) to connect you with live webcasts of every major sport (NFL, NBA, MLB, NHL, etc.), award shows, concerts, festivals, live shows, and other special events. If an event is streaming on the Internet, chances are it's available through Rabbit TV.
Another sub-section of Rabbit TV's Live section is "Live Channels", where Rabbit TV users can view a diverse selection of live scheduled channels on a variety of subjects, including
Business/News
Classics/Sitcoms
Entertainment/Music
Kids/Cartoons
Lifestyle/Food
Shopping/Home
Sports
Tech/Gaming
Like the rest of Rabbit TV, we are always expanding our live channel selection, and as more and more independent content producers begin developing their own live channels, we anticipate a huge surge in the availability of live scheduled programming online.
The Rabbit TV Live section also includes a nice selection of Premium Pay Channels, where you can sign up for subscription live TV channels to watch every game of most major sports along with a variety of live scheduled entertainment programming channels.
Radio
The final content-based section of Rabbit TV is the Radio section. This section links users to over 50,000 radio stations from around the world, including nearly 2,000 live radio broadcasts. You just select your genre, pick a station and you're ready to go.



This Rabbit TV section also includes a number of sources to watch music videos, with the combined libraries providing thousands of music videos from every genre.
Cord Cutting Solutions
In addition to these many content sections, Rabbit TV also provides a number solutions for subscribers who are attempting to ditch their expensive cable bills in exchange for a more affordable TV experience.
We give you the low-down on the best products, devices, and services to replace all of the entertainment you're used to with cable and satellite, all without ridiculous fees.
Looking Forward
The Rabbit TV Network is constantly expanding, with new content being added every day. No matter how much you use Rabbit TV, you'll never run out of new and exciting content, and we're constantly working to create a more user-friendly, enjoyable experience for our many users.
As we move forward, we want to stay in constant contact with you, our fans, about what we've done, what we're doing, and what we want to do. This way we can ensure that Rabbit TV remains fresh and constantly ahead of the curve.
If you have any questions, concerns, comments, or recommendations about Rabbit TV (or FreeCast), we welcome you to let us know by either commenting or submitting a contact form below.
To learn more about Rabbit TV, visit RabbitTVGo.com
To order Rabbit TV now, visit RabbitTV.com.