Live streaming coverage of Thursday Night Football begins Thursday at 8:20pm ET.
Note: Complete in-game coverage is not available online
Online coverage includes LIVE in-game look-ins, expert analysis, play-by-plays, chat and stats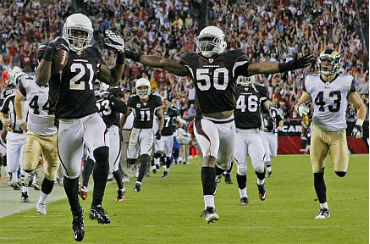 When the 2012 NFL season was just getting started about a month ago, nobody had the Arizona Cardinals getting off to a perfect 4-0 start, except maybe Ken Whisenhunt and the Arizona Cardinals. Now, the Cardinals are looking to make it 5-0 when they take on the Rams (2-2) Thursday Night at Edward Jones Dome in St Louis.
If you're looking to watch the Rams vs Cardinals live online without paying a dime, FreeCast is your destination. When you arrive at our site, just head to our Live Events page and find the Thursday Night Football live stream link. When you click on that link you'll be able to start watching the Rams vs Cardinals live online, absolutely free.
Arizona won both meetings against St Louis last season and has taken 10 of the last 11 games overall against its NFC West divisional foes. With a win against the Seattle Seahawks last week, the Rams matched their win total from last season. However, it's almost always a close game when the Cardinal and the Rams meet.
In the last two games the Cardinals played in St Louis, they won by a combined seven points. Watch the Cardinals at Rams Thursday Night Football live online for free as St Louis tries to ruin Arizona's perfect start.
What makes the Cardinals so dangerous this year is their defense, which ranks third in the NFL. Patrick Peterson has looked like one of the best cornerbacks in football, while Adrian Wilson, William Gay and Kerry Rhodes have also helped to make up one of the best secondaries in the NFL. Watch Arizona at St Louis online live with FreeCast to see if Rams quarterback Sam Bradford can move the ball down the field against Peterson and the Cardinals secondary.
Bradford and running back Steven Jackson could find it very difficult to get thing going on offense against Arizona's defense and however much success they have will depend largely on the offensive line. The Cardinals, however, are hoping that Kevin Kolb can continue his solid play behind center.
Kolb has thrown seven touchdowns to just two interceptions so far this year, including two fourth-quarter touchdown passes to Andre Roberts in last week's win over the Dolphins. Be sure to watch the Cardinal at Rams Thursday Night Football live online for free as Kolb continues to build chemistry with Roberts and star wide-out Larry Fitzgerald.
All you have to do to watch NFL Thursday Night Football live online for free is visit FreeCast's Live Events page. We'll help guide you straight to the Rams vs Cardinals live stream online. You won't want to miss out on watching the Cardinals at Rams Thursday Night Football live online for free as St Louis has the chance to put an end to Arizona's four-game winning streak to start the 2012 NFL season.
St Louis vs Arizona Thursday Night Football will begin streaming live online for free at 8:20pm ET.