Live streaming coverage of Cleveland at Baltimore begins Thursday, Sept. 27 at 8pm ET.
Note: Complete in-game coverage is not available online
Online coverage includes LIVE in-game look-ins, expert analysis, play-by-plays, chat and stats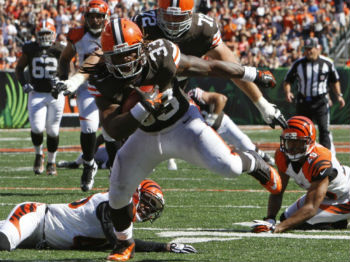 It's Thursday and you know what that means. It's time for some NFL football! And this Thursday Night Football matchup between the Cleveland Browns and the Baltimore Ravens could be the best one yet with the announcement that the REAL officials have reached a deal with the NFL and will be returning to action. NFL players, fans and coaches reached their boiling point after the Monday Night Football debacle.
Roger Goodell and the NFL had no choice but to give in to the real officials' requests and restore the integrity of the game. Fortunately, NFL fans can watch the Ravens vs Browns live online for free as the real league officials get back to work on the football field Thursday night.
With the help of NFL.com and FreeCast you can watch Cleveland at Baltimore and several other Thursday Night Football matchups live online, absolutely free all-season long. Just visit FreeCast's Live Events page and click on the link for the Browns at Ravens live stream.
It will be a quick turnaround for the Ravens, who defeated the New England Patriots on Sunday night and that's about as good of news as the Browns could have hoped for. Cleveland has lost its last eight games against Baltimore and perhaps the only advantage they have in this one is that the Ravens could possible show some fatigue. Watch the Browns at Ravens live online for free to see if the quick turnaround has any effect on 2-1 Baltimore.
Joe Flacco and the Ravens offense have been impressive so far this season, leading their conference in scoring with 98 points heading into week four. Flacco is second in the NFL and first in the AFC with 913 passing yards and has a QB rating of 101.1. Ray Rice Torrey Smith and tight end Dennis Pitta have had a lot to do with Flacco's success early on.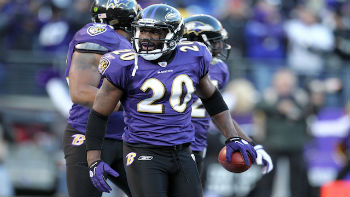 Rice comes into the Thursday Night Football game against Cleveland with 268 yards and three touchdowns on the ground while Torrey Smith leads the team in receiving with 10 receptions for 235 yards and two touchdowns. Pitta, on the other hand, has become Flacco's favorite target with 18 receptions for 188 yards and two scores already.
Watch the Ravens vs Browns live online for free as Flacco tries to continue on his hot streak in the early 2012 NFL season.
The Browns will need rookie quarterback Brandon Weeden and rookie running back Trent Richardson to produce on offense to have any shot taking down Baltimore. Richardson has looked like a beast so far this season, though he only recorded 27 rushing yards on 12 carries last week against Buffalo. Be sure to watch the Cleveland at Baltimore live online with FreeCast as Richardson tries to run through the stout Ravens defense.
For free live streaming coverage of the Browns at Ravens, remember to visit FreeCast. Once you arrive at our site, just click on the link to our Live Events page to get directed to the Ravens vs Browns live stream. Click the live stream link to start watching Baltimore vs Cleveland online live, absolutely free.
Live streaming coverage of the Browns at Ravens will begin at 8pm ET, though the Thursday Night Football game doesn't get going until 8:20pm ET. Don't miss this great AFC North matchup as the real referees return to NFL action. Watch the Ravens vs Browns live online for free with FreeCast.