Live streaming coverage of New England at Baltimore begins Sunday at 8:20pm ET.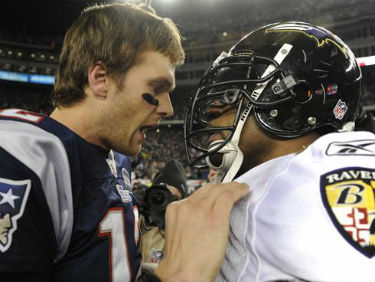 For the seventh time in Tom Brady's career as a starting NFL quarterback, he and the New England Patriots will face off against the Baltimore Ravens this weekend when NBC's Sunday Night Football streams live online. Brady and the Patriots got the best of Joe Flacco and the Ravens in the AFC championship game last season, thanks to a late missed field goal by then Ravens kicker, Billy Cundiff.
Fortunately, NFL fans will be able to watch the Ravens vs Patriots live online for free Sunday night with the help of NBC and FreeCast. To start watching Baltimore vs New England live online when the game kicks off at 8:20pm ET just head to FreeCast's Live Events. You'll see a Ravens vs Patriots link which you can click on to watch the Sunday Night Football live stream online.
New England and Baltimore are both coming into this week 3 matchup fresh off of disappointing losses. The Patriots lost a shocker at home to the Arizona Cardinals of all teams as Stephen Gostowski missed a 42-yard field goal in the final seconds which would have given New England the win. Watch the Patriots at Ravens live online for free as both teams try to rebound from disappointing losses in week 2 of the NFL regular season.
Baltimore's defense was shredded in last week's game against the Philadelphia, Eagles surrendering 486 yards to the Michael Vick-led offense. It was the most yards the Raven's defense has allowed in a loss since 1998. Watch NBC's Sunday Night Football live online for free as Ray Lewis, Ed Reed and Haloti Ngata try to get Baltimore's defense back on track against the high-powered Patriots offense.
Ravens quarterback Joe Flacco will need to play much better than he did last week when he completed 22 of 42 passes for just 232 yards to earn a 66.8 passer rating. If Ray Rice and the Ravens offensive line can get things going in the running game early on, it should open up the passing game for Flacco and his receivers. Watch Baltimore vs New England live online for free to see if Baltimore can get off to a quick start on the ground.
Wide receiver Torrey Smith is probably yearning for a big game since he has just four catches for 108 yards coming in and could burn the Patriots secondary when Baltimore vs New England streams live online.
Ravens tight end Dennis Pitta has one more catch and three more receiving yards than New England's superstar tight end, Rob Gronkowski heading into Sunday Night Football. Be sure to watch the Patriots at Ravens live online, absolutely free as Pitta and Flacco continue to build chemistry.
New England's offensive woes may have something to do with the fact that All-Pro receiver Wes Welker has hardly been involved so far this season. Look for Welker and fellow wide receiver Brandon Lloyd to play a much bigger role when Sunday Night Football streams live online. Running back Stevan Ridley has been a real bright spot for the Patriots offense so far this season but he could have a hard time finding room to run against a fierce Baltimore defense.
Watch the Patriots at Ravens online live as Brady and New England try to avoid dropping to 1-2 on the season. With the help of FreeCast, you can watch the Ravens vs Patriots live online for free in Sunday Night Football, from start to finish. Just head to our Live Events page and click on the link for the Patriots at Ravens live stream.