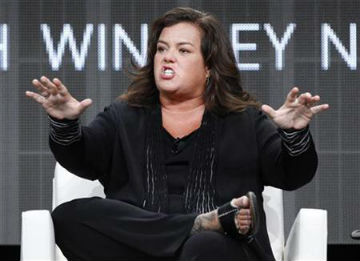 Following the cancellation of her talk show on the Oprah Winfrey Network (OWN), Rosie O'Donnell's future has been a bit cloudy. At first, the comedienne had planned a return to Broadway playing Miss Hannigan in 'Annie', but following her audition she announced that she would not be hitting the big stage.
So, what's next for Rosie?   Well, according to the Huffington Post, O'Donnell will be joining 'The Professionals' panel on the Today show, cohosting the 8 a.m. segment with Star Jones and Donny Deutsch.
In case you haven't heard of the segment, it basically consists of a question and answer panel, where the hosts answer various questions posed by the viewers, with topics ranging from fun and harmless to heavily controversial.
'The Professionals' was a concept originally developed by Star Jones, and following its initial popularity it was turned into a daily segment.  Moreover, the rising popularity of the feature has started talks of adding a fifth hour to the 'Today' show hosted by the 'Professionals' panel.
Although O'Donnell's spot on the show is not yet a permanent deal, it's a safe bet that her rowdy, forthright personality should land her a regular spot on the panel before long.
Are you excited about Rosie's return to television?  Let us know by leaving a comment below.