Silva vs Bonnar UFC 153 Live Online
Live streaming coverage of UFC 153 begins Saturday, Oct. 13 at 8pm ET.
(Access to live streaming coverage of UFC requires a nominal fee.)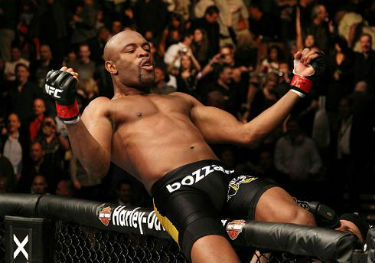 Anderson Silva, considered by many as the greatest Mixed Martial Artist in the world, is preparing to take on light heavyweight Stephan Bonnar in the main event at UFC 153.
The highly-anticipated UFC 153 will go down on Saturday, October 13 at 8pm ET, with Silva and Bonnar stepping into the Octagon later in the night.
To watch the Silva vs Bonnar fight live, UFC fans can either pay for a six-month subscription with UFC TV, or pay for UFC 153 individually. Once that part's out of the way, just visit FreeCast's Live Events page, where you'll find a link for the UFC 153 live stream. Click on that link to watch Silva vs Bonnar live online as well as five other Main Card matches.
Silva, who owns the UFC middleweight title holder, has moved up weight classes twice in his MMA career and he ended both of those fights with first-round knockouts. Bonnar has the obvious size and weight advantage at 6'4", 205 pounds but that's literally his only advantage heading into UFC 153 in Rio de Janeiro. Watch Silva vs Bonnar UFC 153 live online to see if Bonnar, nicknamed 'American Psycho', can pull the dramatic upset and make history.
Silva is 32-4 in his MMA career and has defended the title 10 times over a six-year period. During that six-year period, Silva is undefeated, making him arguably the greatest UFC champion of all time. Bonnar, on the other hand, rose to UFC fame seven and a half years ago when he battled it out with Forrest Griffin in the Ultimate Fighter 1 finale.
Bonnar is 17-7 in his UFC career and could make much more of a name for himself if he manages to upset 'Spider' Silva. Be sure to watch Silva vs Bonnar live online at UFC 153 as Bonnar tries to do what Griffin couldn't and upset UFC's greatest champion.
The other Main Card fights to watch leading up to the Bonnar vs Silva when UFC 153 streams live online are Minotauro Nogueira vs Dave Herman, Glover Teixeira vs Fabio Maldonado, Jon Fitch vs Erick Silva, Phil Davis vs Wagner Prado and Demian Maia vs Rick Story. Watch UFC 153 live online with FreeCast to see all of these fights as well as six preliminary matches. Live streaming coverage of UFC 153 begins Saturday at 8pm ET.
Don't miss out on watching one of the most highly-anticipated UFC fights of the year live when Anderson Silva takes on Stephan Bonnar. Visit FreeCast and watch Silva vs Bonnar live online, along with several other great UFC 153 fights.