TV 3.0 is Finally Coming, Cable and Satellite in Rearview Mirror
Digital TV entertainment's latest product partnered with massive consumer marketing reach will be the key to superseding ambitious over-the-top media services.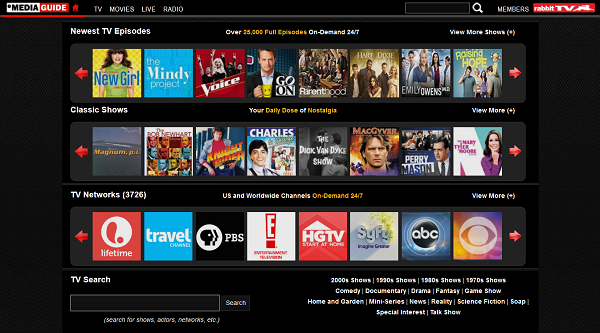 ORLANDO, FL, November 29, 2012 /24-7PressRelease/ — Next week, FreeCast, Inc – a leader in digital TV distribution (DTVD) with the largest virtual guide of popular television, movies, and music content sources – will be unveiling a partnership with "As Seen on TV" DRTV giants Telebrands Corp that is expected to offer consumers an unmatched 10,000+ channels and decisive alternative to traditional cable and satellite offers over the Internet.
The product, RabbitTV, will deploy a unique yet simple distribution model to deliver digital media on a more massive scale than current set-top boxes (Roku, Boxee, Apple TV) and OTT services (Netflix, Vudu, iTunes), which rely on unit, monthly or annual fees that are often strained by constricting revenue share agreements and limited content selections. RabbitTV, on the other hand, will cost a mere $10 a year subscriber fee and includes the device at no charge.
The group plans to reach several million consumers with frequent nationally televised infomercials and widespread major retailer distribution. This will mark the first time a cable/satellite alternative will be marketed to consumers on such a massive retail scale.
This latest venture is all part of FreeCast's mission to "source and organize the world's digital media content into the largest virtual library guide, easily accessible through web-based devices, anytime, anywhere," says William Mobley, CEO.
Their partner, Telebrands Corp, originator of famous "As Seen On TV" products, is one of the industry's foremost consumer products companies with a focus in direct response television marketing. Their experience in mass product distribution should prove to catapult Rabbit TV sales to levels not yet seen by existing consumer media devices and services in the industry today.
For more information, visit:
Product – http://rabbittv.com
Company – https://freecast.com
Kyle Moulder – Communications Director
FreeCast, Inc.
(407) 374-1603
Media Inquiries:
Chad Marx
PublicWire
sales@publicwire.com